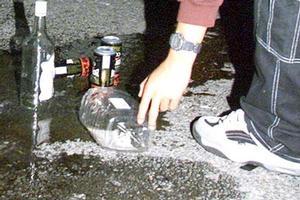 Younger sexual maturation, slow brain development and complex social networks are creating a "powder keg" likely to cause an explosion of unsafe sex, drugs and crime, warns the Government's chief science adviser.
Sir Peter Gluckman issued a statement today about the "new biological reality" behind recent youth tragedies, including binge drinking causing death.
His announcement follows the death King's College student James Webster last week after a night out drinking his grandmother's vodka at a friend's party.
Sir Peter said active sexual hormones now kicked in for young people about age 12, down five years from 200 years ago.
Sexual maturation had sped up because of better child health and nutrition, and was a sign of a physically healthy population.
But it was increasingly leaving in the dust the development of judgment, wisdom and impulse control.
Recent studies showed that these did not fully mature until people reached their 20s, Sir Peter said.
Moreover, technology was expanding and complicating adolescents' social networks, putting at risk immature brains straining to process the flood of information, he said.
These would make more likely binge drinking, illicit drug use, unsafe sexual activity and criminal offending, Sir Peter said.
"The tragedies that arise from risky and inappropriate behaviour by young people have an enormous impact on families and on their communities."
The Prime Minister's Science Advisory Committee would undertake a full study on what actions could be taken and report back within a few months, Sir Peter said.
"Increased rate of sexual maturation, a slow rate of neural maturation, and an increasingly complex social milieu have the potential to produce a powder keg during adolescence," Sir Peter said.
But there will be no quick fixes, he said.
"As a society we will need to reflect on how programmes in childcare, family support, health, education and justice should be adjusted to take account of a new biological reality," he said.
"On the bright side, however, many individuals are extremely resilient to these pressures and their passage through adolescence is untroubled; an important research question is to understand what makes some children resilient and others not."
- NZHERALD STAFF