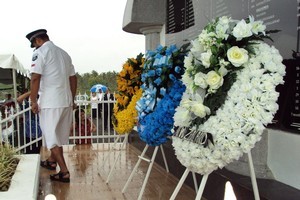 In a final farewell and remembrance of those who perished in the Samoa tsunami of 2009, the Samoan government dedicated a memorial to the 149 victims yesterday.
The ceremony took place at the mass burial grounds at Tafaigata under the grey skies of Sunday afternoon (Monday NZT).
"It is fitting that return here to commemorate the lives of those lost," Prime Minister Tuilaepa Sailele Lupesoliai Malielegaoi said yesterday.
In his heartfelt address he addressed the mourning of a nation and the loss faced by Samoa.
There were tears as the memorial was unveiled showing the names of those who died, families who had spent a year getting over the loss once again mourned for the loss of their loved ones.
The national memorial is the last official commemoration activities by Samoa a year after the tragic tsunami.