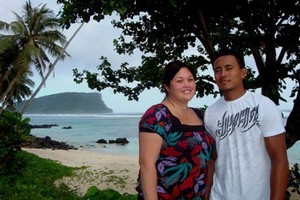 APIA - Auckland woman Shari Brell met the man of her dreams on the day the tsunami hit Samoa.
She had arrived from New Zealand with her mother Priscilla on the 29th of September and headed to Lalomanu where they were booked to stay, and when they arrived, they were confronted by the devastation of the tsunami.
Shari immediately took her tourist hat off and pulled up her sleeves to help, unbeknownst to her amid the helpers and volunteers was her future husband.
"It's cheesy yes, but when I saw him it was like love at first sight," Shari said.
Shari and Mealoi started their love story on that day, talking into the early hours of the morning, supporting each other through the grief that surrounded them.
Sadly Shari left a week later, but Mealoi distance did not get in the way of the Shari and Mealoi, who said texting and phone calls saw them through the months of separation.
"We got to know each other through that," Shari said.
Mealoi moved to New Zealand for a few months to work then returned to take care of his family earlier in the year.
Shari whose happiness was obvious in the way she talked about Mealoi came to Samoa in July this year to spend time with the young man from Lalomanu who was now fast becoming a big part of her life.
When she arrived, Mealoi took her to Togitogiga waterfalls, a secluded scenic spot and proposed to Shari.
"I was surprised and really happy," she said.
Plans for the wedding soon shaped up and the couple decided that it would be fitting to marry a year after they met.
As a renewed sense of mourning takes over the South Coast this week, there will be a group of people celebrating the marriage of Shari and Mealoi who were brought together by the tragic events of this week last year.
"It's fitting that we do it on this day, so that the memory of the day we met becomes a positive one," Shari said.
She is joined by 14 members of her family from New Zealand to celebrate the marriage this Friday at Litia Sini Beach Resort in Lalomanu.
And in true Samoan style it is unknown as to how many members of the Samoan groom's family will be there, word has it, the whole village will attend.