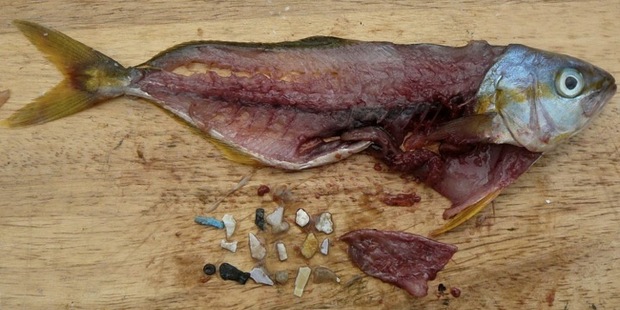 This weekend, hundreds of thousands of people around the world will pitch in to clean up the coastline as part of International Coastal Clean-up Day.
We pitched in, setting up stations in six places around Auckland's West Coast and were impressed that over 155 people decided to battle the wild weather and give up some of their weekend to help.
Our volunteers removed over 3,000 litres of rubbish from Piha, Anawhata, Maori Bay, Muriwai and as far North as Rimmer's Road. The Friends of Whatipu group will also be cleaning up from their beautiful beach up to Karekare as part of this effort too.
The Wellington Coastal Clean-up Extravaganza is also taking place today, with 16 stations around the region organised by a collaboration of the many groups that look after the unique coastline of the capital and Dunedin's Our Seas Our Future group will be meeting at St Kilda Surf Life Saving Club between 12:00-12:30 today to clean up the region's beaches.
Now coastal clean-ups are a good thing. They reduce the amount of rubbish entering the ocean and they highlight the types of waste that people are dropping. Some of the debris that escapes out to sea is eaten by animals in the marine environment and fish, who ingest small broken pieces of plastic, which can poison their flesh and contaminate our food chain.
A study in on the Western Seaboard of the United States found that 35% of fish caught had plastic in their guts.
This is really scary when you realise that there are carcinogenic (cancer causing) chemicals and endocrine disruptors (which mimic oestrogen and can actually change the size of penises and grown breasts in boys) that are poisoning our kaimoana and us.
Although no studies have been done in New Zealand about plastics being eaten by fish, it is naive to think that it is not happening, or won't, if we don't stop letting rubbish flow into the drains and out to the harbour. We picked up over 200,000 pieces of rubbish from Rangitoto - almost all of it litter from the street that had entered stormwater drains - in just one day and people catch fish next to that island all the time.
This artwork was created entirely out of rubbish collected in one day on Rangitoto Island by school students and volunteers:

So cleaning the coast should be combined with an educational effort as well: to stop the millions of tonnes of debris that are entering our waterways we need large-scale behavioural change.
Parents and schools can organise their own clean-up events and access free resources through www.loveyourcoast.org. There are also fantastic educational resources available from the Sir Peter Blake Trust.
Once we have collected all the rubbish from coastal clean-ups, we run an educational presentation with some criminals (through the Department of Corrections), who will then help us collect detailed data from the rubbish. We have run about 30 days with offenders in the past three years and have seen some incredible results indicating behavioural change.
Statistically, more than 80% of the rubbish removed from coasts around the world on International Coastal Clean-up Day is single-use plastic. This essentially means that we could have got by without using it.
WHAT CAN WE DO AS INDIVIDUALS?
1) Use less plastic rubbish
If you grow your own food, cook your own food and buy in bulk, you will use far less unnecessary packaging. It is great to teach your kids how to cook as well - a skill that unfortunately far too many people lack these days. It may not be possible for some people to do all those things, but cooking yourself and buying food in bulk is a great place to start.
2) Re-use what materials you have to use
You can start with easy things like a stainless, re-usable drink bottle, re-usable shopping bags and lunch boxes with dividers in them (which means you don't have to wrap the food in plastic (check that they are BPA free though).
3) Up-cycle or repurpose whatever rubbish you have, or can find
We have now started making self-watering planters out of the bottles we remove from the beach and artworks from all of the coloured hard plastics we find.
If you have have some good advice for how we could reduce, or re-use the rubbish that we create then please share it here. I think many people would prefer that they could catch a fish and not worry about it being tainted with poison.
Sam Judd is co-founder of multi award-winning charity Sustainable Coastlines