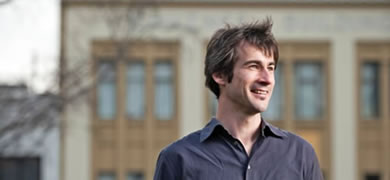 "We've never looked back — now I don't understand why everyone doesn't have Lotus Notes."
Mark Bennett, Salvation Army information systems group manager
Key Business Insights:
Lotus Notes is a smart option for a diverse organisation like the Salvation Army.
Notes clients such as Nomad and Traveller connect dispersed users.
Quickr assists with collaboration, providing access to shared documents online.
Collaboration solutions deepen relationships, spur innovation and reduce costs.
Dealing with a single server vendor ensures superior customer care.
Salvation Army
• Christian church was started in London in 1865
• Present in more than 100 countries
• Has a strong social service mission
• Is a worldwide Lotus Notes user
• Has more than 1000 New Zealand Notes users
Mark Bennett is a man with a mission. As head of the information systems group at the Salvation Army, he not only believes in the community work the Christian organisation undertakes but is also an advocate of IBM® Lotus Notes® as a tool that can help with those efforts.
When he began working for the Salvation Army four years ago, Bennett was already a soldier, as non-clergy members of the church are known. Although he was a newcomer to Lotus Notes, he took only a little while to become a convert.
A visit to his Australian counterparts convinced him of the virtues of Notes, which is in use throughout the worldwide organisation .
"We've never looked back — now I don't understand why everyone doesn't have Lotus Notes."
The Salvation Army in New Zealand is both a church and a nationwide social services organisation. It has a unique military-style organisational structure.
International headquarters in London, headed by a general, commands more than 50 territories worldwide, of which New Zealand is one. Within each territory are divisions; there are five in New Zealand (one of those covering Fiji and Tonga).
More than 1000 Salvation Army staff up and down New Zealand, and 50 in the islands, use Notes for email and a range of other applications. Users include ministers, addiction centre staff, tutors in the army's Employment Plus service, clerical and healthcare workers and communications staff.
They could be a solitary person in a small-town Salvation Army shop or one of 20 staff in a HomeCare centre co-ordinating the 1000 or so workers who provide a variety of services to people in their own homes.
Delivering wide area network services to such a dispersed user population would be a logistical headache. Bennett neatly sidesteps the problem by distributing the Notes Nomad client on USB drives and having users connect to divisional servers, or the data centre at territorial headquarters in Wellington, via the Internet.
Nomad requires no installation, running directly off the USB drive. Another group of users are regularly on the move and stay in contact with Traveller, a Notes client that extends email access to laptops and smartphones so staff have the flexibility to stay connected while working remotely.
Bennett says it works very well with the new breed of mobiles. "If you have a Windows smartphone or Nokia Series 60 device, Traveller installs a little client. Then all your email, contacts, to-dos and journal entries come racing down to your phone in real time.
"It means not having to get out a laptop to check email."
Notes is both an email system and a workgroup tool allowing creation of shared databases for all manner of specialist purposes. It is an important platform for ensuring church workers in all corners of the world are singing from the same song sheet.
Two key databases are "orders and regulations", described by Bennett as a handbook for how the church is run, and "dispo", short for disposition of forces, which lays out the organisational structure and contact details of church personnel.
There are also a number of IT-specific databases for such things as logging service requests — which used to be jotted down on paper, with haphazard results — and asset management. Recent additions are blogging and wiki templates.
But the main work in progress is creation of an electronic board system. Many of the Salvation Army's functions — financial and property management, for example — are run by specific boards, which operate at both territory and division levels.
Users will be able to create an agenda item in the system, allocate people to deal with it and record progress.
"We're trying to make it that every board the army runs — they all run on similar lines — can use a single template." Changes to the template will then automatically be available to all users.
While Notes is at the centre of the Salvation Army's relationship with IBM, there is more to it. On the hardware front, IBM supplies the majority of the church's servers.
"I see a huge advantage in having all your kit the same in terms of the relationship that gives you with the vendor." As a committed customer, you can expect more of your supplier's attention, Bennett says.
While Notes is giving the Salvation Army the ability to share information among users, another Lotus product, Quickr, will allow them the flexibility to collaborate on centrally stored documents — with or without Notes.
"In our church settings what that means is they could create a Quickr place for their music team and the people with Lotus Notes accounts could access it and those without could too."
Quickr also has a lot of potential as a platform for simplifying remote access and file backup.
Bennett says being part of a worldwide organisation that uses Notes has two big benefits. For one thing, you can share content and expertise; for another, there are price advantages.
For the first time this year he attended Lotusphere, the user conference held each January in Florida, finding it invaluable. "It was exceptional both in seeing what's coming and for the tech workshops — some of them were superb."
In terms of advancing the church's work, Bennett sees Notes as the organisation's most important tool. "I have a keen affinity with the mission and the history of the Salvation Army and am keen to see it go forward. Lotus Notes is a perfect fit for an organisation like ours."