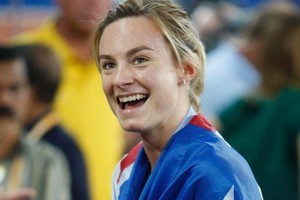 Commonwealth Games double medallist Nikki Hamblin will be part of the Auckland half marathon field today - but only because of her ambitious boyfriend.
Hamblin, who took silver in the 800m and 1500m in Delhi, was physically and mentally "shattered" on her return and had no plans to complete the waterfront circuit.
But Hamblin's partner Cameron Holt is attempting the marathon so she decided to run.
"I was going along anyway so I thought I should do something instead of just standing around."
The 22-year-old finished second last year in a time of 1 hour 16 minutes but found the longer distance demanding.
"I'm used to three or four minutes of pain so I was feeling awful," she laughed, though it was "very cool" running over the bridge.
She has advised Holt to take a leaf from her Delhi formula. "I've told him to keep a steady pace at the start and look to finish strong."