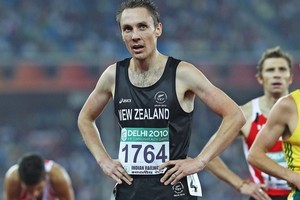 NEW DELHI - Bronze medallist Nick Willis will run a 5000m race early next year with a view to making the switch permanent.
Willis could not defend his Commonwealth 1500m title in Delhi yesterday in a race dominated by the next Kenyan middle-distance superstar Silas Kiplagat.
United States-based Willis is contemplating the 5k, but the London Olympics in 2012 may be too soon. He said the 5000 was "something I haven't really spoken about publicly before but we are going to give one of those a crack in February or March 2011".
"It might not be for London but at least to get my feet wet for afterwards. I've only been able to do 50 or 60 miles a week in the last three years and you have to do a minimum of 80 - more like 90 or 100 - to run the 5000m," he said.
It is not an uncommon move for middle-distance athletes, who tend to get stronger as they get more experienced but lose some of the top-end speed that is vital in shorter distances.
It was that lack of top-end speed that did for Willis yesterday as a sluggish pace through 800m - 2m 02s - meant it was going to come down to a 200-300m sprint at the end.
"Most people were scared the Kenyans would push for a really fast pace. Secretly that's what I was hoping for and I was looking to use you guys, the media, to convey a message that my speed is really good," Willis admitted. "Unfortunately they didn't fall for it.
"I was happy with bronze, it should have been silver but I didn't have quite the zip I had in Beijing. My X-factor is missing over the last 70m. Give me nine months and I'll be back."
Track coach Chris Pilone confided before the race that the last thing he wanted to see was the field go through 800m in 2m 02s. For Willis to have a realistic chance they needed the pace to be sub-two minutes.
"It was my worst nightmare. He won a medal by running tactically pretty well, although he got shuffled a bit. You know, 3m 03s at 1200m, it was not good," Pilone said.
In truth, the race was a poor spectacle. Willis tucked in behind the Kenyans, but nobody was prepared to take the lead and try to split the Africans. That allowed them to dictate the pace and, ultimately, the race.
Kiplagat has run a 3m 29s this year yet cruised home in 3m 41s, with Willis a further second behind.
"I'm proud I gave it everything and executed almost as good a tactical race as I could considering the circumstances," Willis said. "Maybe I needed a faster pace but had I sacrificed myself up front, the two Kenyans would have beaten me anyway."
Willis has endured an injury-racked year, with hip problems and surgery on his knee, meaning he hasn't had the training time to hone his speed. In the lead-up to this race he wondered whether he might have lost something even more important.
"I was a little bit worried [on Monday] because I didn't get any excitement as I was thinking that maybe I'd been there and done that," Willis, 27, said. "I thought that maybe I was losing the love for it. But then I woke up [on race day], my heart was pounding 100 beats a minute and I was like, 'Yes, I'm back in it."'
The Hutt Valley native now has a nice set of medallions. Four years ago he won gold in Melbourne, followed by silver in Beijing (upgraded from bronze after "winner" Rashid Ramzi tested positive for EPO-derivative Cera), and now bronze.
He was aiming to become the first Kiwi man to defend a Commonwealth title on the track since Sir Murray Halberg over three miles in 1962.
He would have become just the third man to defend a 1500m crown, with Kip Keino and Steve Cram.
"That was a goal of mine, to try and be one of the few to do the double.
"But tonight showed how tough it is. There's always someone new coming through. This kid Kiplagat might be the best in the world now, but there's probably going to be a new Kenyan by [2012]."