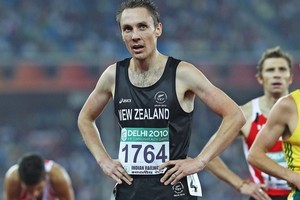 Nick Willis has bronze to go with gold after he came up short in his attempt to win back-to-back Commonwealth Games titles.
Willis, attempting to become the first man since Sir Murray Halberg to defend a Commonwealth Games' title on the track was shut out by new Kenyan star Silas Kiplagat, who won in the super-slow time of 3m 41.79s. James Magut was second, followed by Willis.
The Africans dictated the race from the gun, running two out front and one on Willis' shoulder.
The last thing the New Zealander wanted was a slow pace through the 800m, but that's exactly what he got, with 2m 02.21s after two laps.
Kenyan Olympic champion Asbel Kiprop was not here but in his place was Kiplagat, the heir apparent.
Willis was expected to have a tactical and mental edge on his opponents.
After all, nobody else in the field had an Olympic silver medal tucked away in his socks drawer.
The Lower Hutt runner revels in the mental side of the sport.
A keen athletics historian, Willis will know all about John Walker's silent statement in the calling room at Montreal, where he striped off his tracksuit before anybody else and made sure they all copped a look at the black singlet with a silver fern, an instrument of fear in middle distance running during the 1960s and '70s.
Willis did that on a minor scale after his heat on Monday, running straight off the track as if to say: "That was a dawdle, the final is the only thing that matters."
But all the mind games in the world weren't enough to hold off a Kenyan trio who hunted as a pack.
Adrian Blincoe, the second New Zealander in the race, finished well back.
In the men's javelin, gold medal favourite Stuart Farquhar looked set for a medal.
With a personal best of 85.35m, set this year, things looked ominous when he could get his first throw out to 70.64m only.
That had him sitting well outside the medals spots but his second throw got him back in contention.
After three of six rounds, he trailed Australia's Jarrod Bannister.