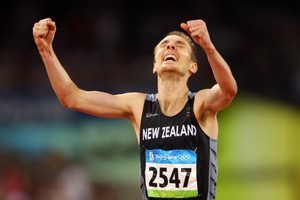 Nick Willis' dream of emulating Sir Peter Snell at next month's Commonwealth Games has ended.
The Olympic Games silver medallist has been forced to pull out of the 800m in Delhi and will instead focus on his preferred 1500m - the event he won four years ago in Melbourne.
Snell won the imperial equivalents, the half-mile and mile, at the Empire Games in Perth in 1962.
Willis had declared his intention to double up in Delhi last year. But the 27-year-old had knee surgery in March and has since overcome a hip problem.
"The 800m was off the cards as soon as I found out about my knee," Willis says. "I didn't even have the qualifying time for it in the period required. Just coming back from the operation was enough of a challenge.
"The original thinking was to give me an additional motivation, given I had won the 1500m before.
This is enough of a challenge for me at the moment."
Willis has come back strongly from his injuries. He won a 1500m in Milan last week in 3m 35.17s against a field which included current world champion Yusuf Kamel of Bahrain.
That effort indicates he is close to his best, not so much because of the time but the manner in which he eased past his rivals in the final 200m. He ran a 3m 38.49s for his tactical win in Melbourne.
Willis will face some tough opposition in this year's event, mainly through the Kenyan contingent who have named Silas Kiplagat (the fastest man over the distance in the world this year with a 3m 29s) and Asbel Kiprop (the athlete promoted to gold in the Olympic 1500m at Beijing).
Willis is unsure if Kiprop will race after an arduous European season.
"He told me over dinner at the Milan event he is not doing it [the 1500m at Delhi]," Willis says. "His previous two races hadn't gone well and he is exhausted after making big bucks on the circuit."
It's uncertain if Kenya could meet a deadline for a replacement - countries are allowed three athletes in each event.
Willis says an unknown Kenyan in Delhi could be a trickier proposition than Kiprop as 13 Kenyans have run faster times than Willis over 1500m this season.
"Often they've been working their butts off at home, waiting for their chance. The unknown factor makes it hard to plan."
Willis will not face 1500m competition from 20-year-old Australian Ryan Gregson, who ran a 3m 31s. Gregson is out with a stress fracture to a foot.
Tom Lancashire (3m 33s) and Andrew Baddeley (3m 34s) of England have also run faster times than Willis this season, as has South Africa's Juan van Deventer (3m 34s).
In a spot of dark humour, Willis' wife Sierra says on their blog site willisrunning.com that she knew he had returned to form, not just because of the win in Milan, but also because the drug testers popped by again once they returned to America.
While a number of athletes get imprisoned in their hotel rooms by the constant diet of travelling, eating, sleeping and racing, the same cannot be said for Team Willis.
Sierra Willis says they indulged in plenty of sites, sounds and pizza on their tour of Italy. Her husband made the most of their lakefront hotel in the mountains, using the water for a post-training ice bath.
The going gets tougher over the next few days as Willis goes back under the eye of coach Ron Warhurst. His last race before the Games will be the Fifth Avenue Mile in New York on September 26, a race he won in 2008. Willis flies into Delhi the day before his first heat.
- additional reporting: Steve Landells