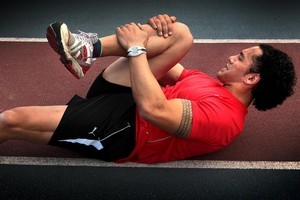 Ruben Wiki hopes he can get to the finish line before dark.
Given the race starts at 6.30am, and his famous resolve that helped him become the first New Zealander to play more than 300 first-grade rugby league games and set a world-record 55 tests for the Kiwis, there's a good chance he'll do that.
The 37-year-old isn't slowing down after his retirement from the NRL and next weekend will run in the Arthur Lydiard marathon through the Waitakere Ranges.
It's his first tilt at a marathon and he's not taking it lightly.
He can't afford to anyway, given the Lydiard marathon is billed as the toughest road marathon in the country with steep climbs and descents.
Wiki completed a half marathon last year but found his "quads just turned to cement" on the final 3km.
He'd said on the television show Code he would do the full marathon and figured he couldn't back out.
He has trained virtually every day since June. His weight has fallen from 105kg in his playing days to 96kg.
Wiki and wife Santa, as well as former New Zealand cricketer Mark Richardson, will be among about 600 runners who will line up for the full and half marathon.
Ady Ngawati will be back to defend her title while Dale Warrender and Steve O'Callaghan are favourites in the men's field.