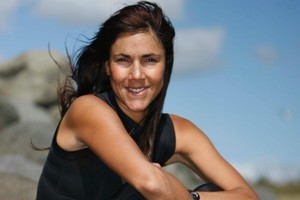 Imagine for a moment that you are a 20-year-old, flung from a flying fox into a tree, and you fracture your back in two places and suffer a bulging disc.
Your doctor advises you to fuse your back with bolts and tells you that you will never run again.
That was the story 22 years ago for ultramarathon runner Lisa Tamati who recently placed second in the world for the Gobi Desert run (250km) in China.
In 1988, she didn't get her back fused because she didn't want to risk an operation and decrease the mobility in her back. She opted to deal with the pain and has carried on feeling the pain on her way to completing about 120 ultramarathons around the globe since 1997.
Tamati, who has had asthma since she was 2, doesn't complain about her plight - she just keeps on running.
"Everyone has some sort of issue to deal with or some injury so you just have to get on with it," said Tamati, who ran 2250km from Cape Reinga to Bluff last year in 43 days.
Overcoming challenges is part of everyday life for this running machine who is weeks away from her next sojourn through the desert, when she takes on the Ultra distance Sahara Desert run from October 3 to 9 finishing at The Pyramids of Giza in Cairo.
"I am an average, average person as far as talent or natural ability goes," she said. "But I am very bloody minded and I have trained the hell out of myself to make the most out of what I have got.
"Not being a natural runner has been a blessing because I would rather have determination and willpower over natural talent - you won't get there in ultramarathons with just talent."
Racing The Planet is the organisation that operates the four desert runs, which include the Atacama Crossing in Chile (March), Gobi Desert in China (June), Sahara Race in Egypt (October) and The Last Desert in Antarctica (November).
Tamati admits that it is hard to peak for events throughout the year as the races are so hard and long that she can't look after her body. She overdid it last year with the run the length of New Zealand, running Death Valley and competing in the Commonwealth Champs in England.
Tamati will head to the Sahara with the same game plan she takes into every ultramarathon in the desert. Her priority list is: survive first, finish the race second. Achieving a good placing is third.
She stressed that even though she had her best career result in the demanding Gobi Desert there are no guarantees in her sport.
Tamati credits part of her form to the cross-fit training method she has adopted with trainer Jamie Milne.
Milne has implemented a 50-day preparation plan for the Sahara where they are reprogramming Tamati's muscles to be more powerful and explosive and working on her mental toughness.
For the layman, ultramarathon runners are freaks.
Tamati tells her war stories from the Gobi Desert over a coffee in Newmarket - it's a world away from the pain and anguish she has endured.
In the Racing The Planet series the event is completed over seven days in six stages and stage five, the Longest Day (110km), is the grind and most dangerous stage.
In the Gobi run, Tamati and fellow runner Sam Gash were running through a village in the middle of the night in Muslim territory in shorts when they were followed by five men on mopeds.
"That was really scary because we were so tired," said Tamati.
They went on to become lost and fall down a big crater. Their journey took them through riverbeds, swamps and bamboo plantations so thick they were fighting through it.
"It is hell," said Tamati. "You go through every emotion and break down crying on occasion. You drop to your knees and yell out where the ... are we? In the hope someone is listening."
More often than not no one is listening. Out in the desert, the runners are on their own and anything can happen as they are pushing their body to the limit.
So the million-dollar question is, Why does she do it?
"Back in the day none of the sports we did were paid for - only 20 years ago all of our top rugby players did it for free - we play these sports because we love them and that is why I do ultramarathons," said Tamati.
"I do it for the honour, the pride of representing your country, the challenge and for the people ... those are all the reasons I go back to ultramarathon running."
There is no money in the sport and Tamati, who works as a jeweller in between her training schedule, admits it is very hard for her to get traction to get sponsorship, appearance money and cover her costs.
Her entry in The Last Desert race in the Antarctica in November is still pending on the US$10,000 entry fee. It is just another challenge to overcome and every ultramarathon runner has a story behind them.
They are quite often eccentric types who are real fighters.
Tamati has overcome more than most and wants to break all the boundaries of life that say things should be a certain way.
"I want to fight against the attitudes that say you need to be a certain age, race, body shape to do anything," said Tamati.
"Let's break all the boundaries ... bugger it. I want to show people that you can do things as you get older, that Maori can do great things and that women can achieve."
She takes pride in the amount of progress she has made in her sport in a short time and loves how her running takes her to crazy exotic places.
"Who gets to run across the Gobi Desert? Where I was filming was cut off to non Chinese civilisation.
"No one can ever take away what you achieved.
"That is the best feeling and you get this inner sense, I am proud of myself. Shit, I just ran 250kms across the Sahara or whatever. How cool is that?"
It is pretty cool and a long way from the 20-year-old woman with the broken back who was told she would never run again.