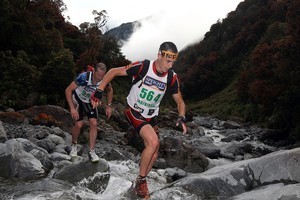 Michael Adams and James Kuegler look to get their campaigns back on track in race five of the Xterra Off-road trail running series at Whitford Valley tomorrow quite literally.
Three weeks ago the two favourites for the Super Long series (21km+) were comfortably ahead of the chasing pack in the Woodhill Forest event when they lost the trail on a steep incline and lost their advantage.
"It wasn't ideal," said Adams at their misfortune.
"We were going quick and were so focused on our running on the terrain that is pretty rough that we lost sight of the track.
"It is funny in hindsight but at the time it wasn't very funny."
"I was head down, bum up chasing Michael," adds Kuegler. "We thought the track went right but it went left - when we got back on the track we ran just over four-minute kms for the rest but the damage was done."
Adams and Kuegler lost around 16 minutes but made up enough ground to place 10th and 12th respectively.
Adams, who has spent 14 years competing in international orienteering, entered this year's Xterra series late but has made rapid progress with wins at the second and third events.
He has won the series the past two years and knows he has his work ahead of him to make it three in a row.
"It is do or die for me now," admits the 34-year-old. "There are two events left and I have to win them or place in the top three to defend my title. It is all on and I'm excited."
Equally up for the challenge is Kuegler, a marathon runner and multi-sport athlete who is 12 years younger than Adams.
"I'd love to knock Michael off his perch," said Kuegler. "He is old and cunning and has been doing this forever but I am getting closer and closer. "
"I am not as fast as I was last year but I am counting on my tactical ability to get me home; that is where I think I have an edge," adds Adams.
"I enjoy the rivalry - there'll be a time when James will start overtaking me but I don't think that time is yet."
The Xterra series in Auckland has six events finishing at Shakespear Regional Park on September 4 and is followed by the national trail running championship in Waihi.
It has been in action in New Zealand for the past seven years but only in the past two under the global banner of the Xterra series.
During that time Aaron Carter of Total Sport explained the Xterra Series has had phenomenal growth.
"Seven years ago we had about 50 runners coming along and now that number is consistently 600 plus at every event," said Carter.
He believes the Xterra series is popular for three reasons; there is less impact on the body in running off-road, the events embody a community feel among the athletes and the tracks are in beautiful locations.
Adams and Kuegler aim to stay on track to achieve a special come-from-behind series win.
Xterra factor
* The Xterra series in Auckland has six events finishing at Shakespear Regional Park on September 4 and is followed by the National Trail Running Championship to be held in Waihi.
* Each event offers four courses ranging from Short (5-7km) to Super Long (20km+).
* The Xterra series has grown significantly in the past seven years; there were 50 athletes at the beginning and now there are more than 600 at every event.
* The Crowd Goes Wild presenter Mark Richardson is a regular runner in the Xterra series.
For more information on off-road events go to: www.totalsport.co.nz