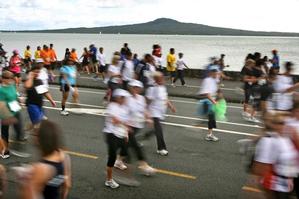 Thousands of people turned out for this year's Ports of Auckland Round the Bays event, raising thousands of dollars for charity.
More than 40,000 people registered for yesterday's big run, which had participants as young as 2 years old to a 104-year-old woman.
Events spokeswoman Olivia McPherson said the event, now in its 38th year, was a great success which this year brought out thousands of families.
"It's a great way to get fit and raise money for charity."
Mrs McPherson said thousands of supporters, including family and friends who turned out to help carry water bottles on the sidelines, pushed the number of people out at yesterday's event to up to 70,000, at least.
Proceeds raised will be known later this week, all of which will be going to three charities around Auckland.