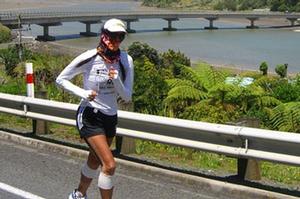 Kiwi ultramarathoner Lisa Tamati, now 29 days into her 2,200km run the length of New Zealand, says her body is holding up well, despite early injury fears.
The New Plymouth woman is running from Bluff to Cape Reinga in 33 days - the equivalent of 52 marathons.
Injury problems while running up the east coast of the South Island caused some early concern.
Tamati's route will take her to Auckland airport, where she will catch a plane to Kaitaia, before resuming running south from Cape Reinga. The plan is for her to complete the mission in Auckland City on December 3.
"The body is feeling pretty good today" Tamati tells her daily blog. "I am still experiencing some hip troubles, but what else can you expect after running 1400+ kms I guess... so I am just glad the glue and tape is still holding me together."
Tamati has also used her blog to thank the truck drivers she has come across over the past month - one of which even stopped traffic at the Awakino tunnel to protect her while she ran through.
"When I arrived at the Awakino tunnel, Megan who had been following in behind the amazing Toyota Prius Safety car was nowhere to be seen," says Tamati.
"It turned out she was taking a quick nature survey behind a bush. Luckily a Fonterra truck that was driving up from behind me stopped all traffic for me to run through the tunnel. Thanks so much to the truckies out there for their support and courtesy on the road, it is much appreciated."
Tamati is raising money for two charities through her run, CanTeen (for teenagers and their families fighting cancer) and Curekids (dedicated to finding cures for illnesses that affect children).