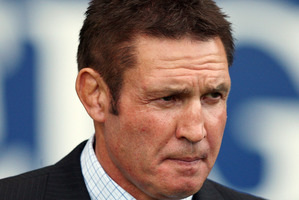 There's a changing of the guard at the Blues, so up steps Glenn Moore. The 54-year-old, whose CV includes three years as head coach of the Highlanders, is one of John Kirwan's new assistants, in charge of the forwards and contact areas.
Moore, a loose forward for Mid Canterbury in the 1980s, led North Otago to a title and guided Mid Canterbury to the Meads Cup in the Heartland championship last year.
You are a South Islander with Auckland connections ...
My dad was in the Navy here for 10 years. I was about 4 when we shifted back to Ashburton. Along with a couple of others I own a business - South Island Fresh Foods - and I've been spending a lot of time working in Auckland, particularly this year.
How do coaching and business mix?
I'll definitely step back from the business so I can be right in the middle of the Blues. Before becoming a professional coach, I was in executive management in the meat, timber and engineering industries.
There are a lot of similarities with coaching and business. We employ about 85 people. It involves similar things - building a culture, a team, and having strategies.
How did you get into coaching?
It was always a passion. I was managing an engineering firm in Dunedin and it got to the stage of work, work, work. I needed balance in life so I started coaching a premier club side, then the Otago under-19s. I was working for a meat company in Oamaru which is how I came to coach North Otago.
You experienced lean times in three seasons at the Highlanders. Was your confidence shaken?
I took over when there was a big exodus leaving a high percentage of players in their first year of Super Rugby including the likes of Israel Dagg, Ben Smith and Adam Thomson. It was a tough time but I never lost confidence.
What to do with the Blues ...
John Kirwan has a passion for the franchise which you can see coming through in how they play - one of the biggest things will be converting home performances to away. I haven't been amongst it yet so it would be irresponsible to judge why (they had trouble winning away games.)
Can you be more specific about your new role?
All aspects of the forward play and all the functions of the contact area, including recycling the ball on defence and attack. To me, it's about trying to keep it simple and we've got to be really physical. I call it (the contact area) the glue ... all the best attack weapons won't get you far unless you can glue the game together.
Experienced observers have questioned whether John Kirwan understands what makes his Polynesian players tick ...
I don't think it is an issue. JK and others have built a culture within the Blues that everyone is comfortable operating in. I had a lot of experience in my North Otago days where we had a large amount of Tongan players. I did a lot of work learning how to connect. I did some simple stuff, like going to the Tongan church on Sunday ... I wanted a better understanding about what was important in their culture. Fifty per cent of our players were Tongan.
What did you learn?
One thing I learned was how important family is. We called our team the family, not the team.
Any anecdotes from the provincial coaching scene?
With a team like Mid Canterbury you deal with rural realities, like calving time and extremes around milking. Last year, we had massive storms with billboards flying around the air and had to cancel a crucial training before the semifinal. Our captain's watering systems were blown over on his farm, and he got blown over a fence.
Major coaching influences?
Graham Henry, Wayne Smith and Steve Hansen were very supportive. I used to talk with Sir John Graham quite a bit, and spoke to him prior to going for this job. I think so highly of him ... if you are off course you get told alright. One of the best things he said was to be true to yourself.
What is your style?
Honest. Direct. I want a pound of flesh, but I care about the players, including outside of rugby.