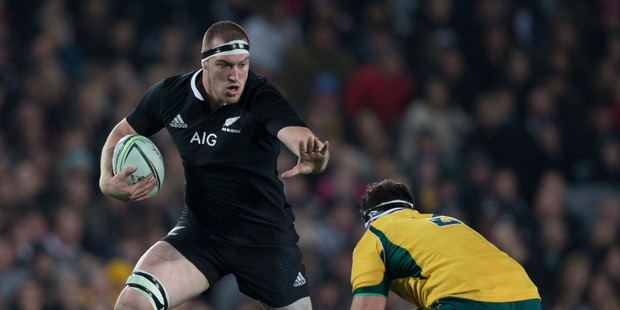 If he didn't wear glasses you would swear children would run and hide when they saw him coming. Somehow, though, Brodie Retallick's face furniture manages to make him look almost non-threatening when he's away from the footy field, as he is right now, talking to fans at Auckland's Viaduct Harbour.
Physically he's no less imposing, of course. Listed at 2.04m tall, he dwarfs everyone in the room; his 117kg frame is capped by the kind of head that would take at least two executioners to lop off. He has teeth Liberace could play, and a foot size that guarantees no one can borrow his boots. He's a beast of a man to behold, but beneath all that, he's just having fun.
Retallick, you see, doesn't separate the concept of enjoyment from the science of professional performance, and that's why he's so damn good at what he does. For him, if you're having fun the performance takes care of itself.
In his week off before the All Blacks reconvene for the Argentine test in Napier, he's reflecting on his performance against Australia.
He says it was just one of those games when everything flowed, when players felt free to impose their personality on play.
He felt the same rush as ever standing a little wider, being central on the offensive plays. It's the kind of style that separates him from most of his counterparts. While so many big men panic in open play, Retallick seems to have time on the ball.
"I grew up playing in the backyard with my older brother who was a first-five," he says. "He always tried to run around me, and I tried to run over him. Something must have rubbed off." Probably his brother Chook, off the sole of his foot.
Not that Chook would like to hear that. Chook would say Brodie's undeniable ball skills are all a product of his fraternal tutelage. But that's the way in the Retallick household. With a brother called Chook and a dad called Patch, it's no surprise the banter flows freely.
Brodie, though, is more subdued with his chat. That's not to say he doesn't have any. "When something needs saying I'll say it." To his own team or the opposition? "Well, that depends on what needs saying."
He copped a bit of chat from the English after mistakenly referring to lock Courtney Lawes as Michael Laws. The British press had a field day with that one, presenting it as evidence the All Blacks had no respect for their June opponents. English prop Joe Marler took more exception than most, taking it upon himself to refer to Retallick as "Brian" during the three-match series.
"That's okay mate," Retallick finally retorted on his Hamilton home pitch. "It's been two and a half tests and I still don't know your name either."
Of course, he was just having fun. He really knew his name was James.
Against Australia at Eden Park last weekend he was everywhere. He carried the most of any forward in the game, he ranked inside the top 10 tacklers, he won as many turnovers as Richie McCaw, threw in a line break for good measure, took a couple of lineouts, cleaned out the rucks. And still he isn't completely satisfied. Forget his physical size, the fact that he still believes he can get much better is the truly frightening thing about Brodie Retallick.
Most of that improvement will come at lineout time. He has a couple of tweaks to make to his game. He wants to be complete in that area, to make sure he is as much of a force in the air as he is on the ground.
You wouldn't bet against him making those adjustments over the next couple of test matches. He watched the Pumas push the South Africans around last weekend, and isn't exactly keen to be on the receiving end of that kind of punishment.
He's not keen on a loss either. He has lost just once as an All Black, against England, two seasons ago. His next two tests, assuming he plays (and he has missed just three tests since his debut) are about preserving that winning record. After all, as he says, "That wouldn't be a lot of fun now, would it?"