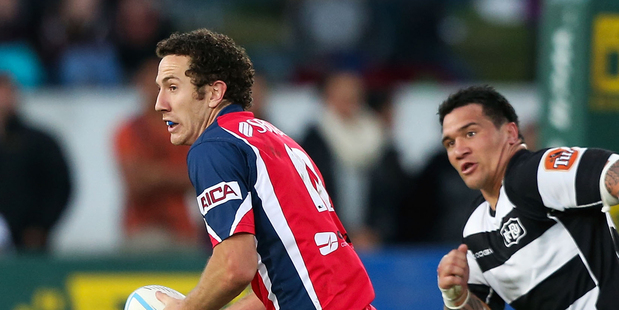 Tasman 35
Hawke's Bay 15
The Marty Banks show rolls on. The hero of the Makos' successful 2013 Championship campaign, the first five has carried his output and form into Premiership rugby with 15 points and two try assists against an outgunned Hawke's Bay Magpies outfit in Blenheim.
We should have seen more of him with the Hurricanes and he outpointed his more vaunted opposite Ihaia West, though this was not all West's doing.
But Banks was far from the sole highlight for Tasman, who showcased their high skill level and continued their tigerish breakdown work and backing up. The Makos hooked into their work with gusto, a Liam Squire bust and overhead offload to Joe Wheeler giving them a 7-0 lead before the Magpies had even got their second wind.
Wing Bryce Heem scored in the corner after solid inside work by Banks and fullback James Lowe. Tasman ran freely all game, working off hard-won and mostly swift breakdown ball, and Lowe looks far more comfortable at this level than Super Rugby.
He was a constant threat, while the pack was industrious, and men like flanker and skipper Shane Christie, Squire and Quentin MacDonald were always prominent and effective. Lock Alex Ainley won a stack of lineout ball. Their territorial advantage grew into an unassailable 23-3 halftime lead.
The most spectacular score was the bonus point try, finished with an exclamation mark by replacement David Havili, a New Zealand Under 20 squad member. Jimmy Cowan saw 20 minutes off the pine for his new province.
Hawke's Bay have assembled a strong squad on paper, but the potentially exciting Andrew Horrell-Robbie Fruean midfield duo has yet to gain traction. They were well looked after, for the most part, by Tom Marshall and the physical Kieron Fonotia. Fruean is on the hunt for a Super Rugby contract but will need to lift his game to attract suitors, though he did score an intercept try and make a couple of promising forays. Captain Brendon O'Connor tried his heart out and deserved his try.
Hawke's Bay return home to host Taranaki in the late Friday night (8.05pm) game, while Tasman travel to Mt Maunganui to face Bay of Plenty at 4.35pm on Sunday.
The enigma
Centre Robbie Fruean may yet prove to be an astute signing by the Magpies, but he is clearly a long way short of full fitness, with his hands on his knees more than once late in this one.
20.55
Marty Banks' ITM Cup points average for Tasman, with 185 points in just nine games.
Tasman (Joe Wheeler, Bryce Heem, Tom Marshall, David Havili tries; Marty Banks 3 con, 3 pen)
Hawke's Bay (Robbie Fruean, Brendon O'Connor tries; Ihaia West con, pen) HT: 23-3 Tasman