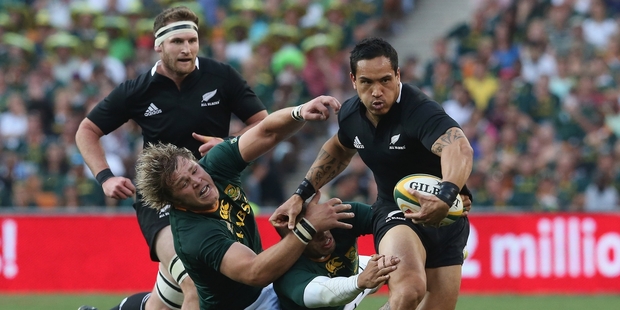 Even this far out, it's easy to imagine the tone of post-World Cup wailing should the All Blacks fail to defend their title next year.
Too old, too slow, too caught up with yesterday's men will be the general thread. It will be a relatively easy argument to make.
In the All Blacks' 31-man squad, there could be as many as 18 from the 2011 campaign. There was a bit of murmuring even back then that the All Blacks were an ageing team.
It's not beyond reason to suppose that, from the team that started the 2011 final, Tony Woodcock, Owen Franks, Sam Whitelock, Jerome Kaino, Richie McCaw and Kieran Read will be in contention to do so again if the All Blacks get that far.
Aaron Cruden, who did play, and Daniel Carter, who would have played the 2011 final but for injury, Ma'a Nonu, Conrad Smith, Cory Jane and Israel Dagg will also be in the frame.
Keven Mealamu will probably still be around, as will bench man that night Sonny Bill Williams and squad men Ben Franks and Colin Slade.
It's even possible Hosea Gear, who will play for the Chiefs next season, will also be involved and maybe even Richard Kahui, who is being tipped to return to the Chiefs.
The impression could be drawn that the All Blacks haven't evolved since winning.
History is full of defending champions who failed to evolve, who failed to rejuvenate their team with fresh ideas and players.
It was actually the All Blacks of 1991 who were the first to make that mistake. As many of the players involved admit now, they held on, and were allowed to hold on, for a year too long to have another crack.
They were exposed in the semifinals by a seriously good Wallaby team that had the perfect balance of experience and youth.
Strangely, the Wallabies repeated the same mistake the All Blacks made when they turned up in 1995 with a team that was a metre off the pace.
South Africa in 2011 were the other most obvious example of a defending champion staying too close to their roots. The Boks had many of the same players in their mix, but their real issue was they didn't change much tactically between 2007 and 2011.
But while the All Blacks may retain many of their key 2011 personnel, they are not a side that has stood still in the last few years. Their evolution, tactically and culturally, has been significant.
Just as valid, is that the personnel may be the same, but all of them have evolved. Kaino, McCaw and Read are different players to the men they were in 2011. Stale and past it? Hardly. Worthy of selection? Absolutely, and that applies to Nonu, Smith, Woodcock, Franks and Jane.
What the All Blacks have done tactically is protect themselves against being exposed as one-dimensional. They have built their triple-threat game, which means they have a variety of ways to play.
Whatever it may look like after the event, the All Blacks won't have failed because they looked at what worked in 2011 and with whom, and thought they could try it all over again four years later.
"We know that World Cups haven't been razzle-dazzle affairs from quarter-finals on," Steve Hansen told the Herald on Sunday earlier this year. "We genuinely believe that, if we can perfect our game and get a quality of performance right across the board in all the things we are trying to do, then we will have enough tools in the tool box to be really competitive.
"People haven't won back-to-back World Cups for a reason and a lot of that is mental. Mental fortitude hasn't been right. Look at our 2007 side ... we didn't go there to take that World Cup by the scruff of the neck. I think we went there expecting to take it by the scruff of the neck and there is a massive difference."