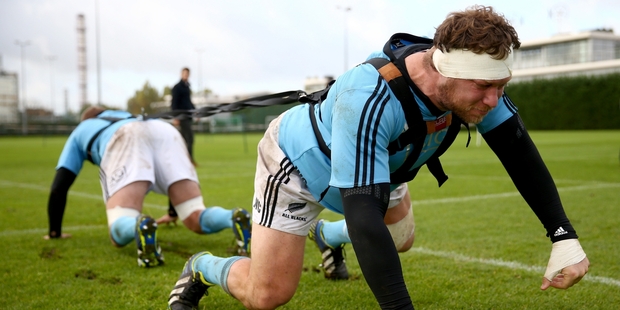 Reputation is everything. Get a bad name and life can be frustrating - an endless case of being unfairly judged before the facts.
Wyatt Crockett knows all about this. He was unlucky to encounter a bad referee and a clever Italian prop early in his career, and the consequences were significant.
In 2009, at the San Siro in Milan, the last eight minutes of the test were devoted to a vicious cycle of scrum collapse, penalty, scrum collapse.
Referee Stuart Dickinson decided Crockett, who was playing his third test, was at fault. The game ended with 13 re-set scrums and the All Blacks were incensed with Dickinson.
They got vindication of sorts when IRB referee boss Paddy O'Brien publicly lambasted Dickinson the next day, saying he'd got it wrong, but the damage was done.
Crockett has never been able to shake off the shame of that encounter and the legality of his scrummaging is a topic from which he gets no peace.
He's even had to contend with former All Black coach Graham Henry the man who defended him so passionately in Milan publicly critiquing his technique in his guise as Blues technical director.
Last year, Henry said Crockett "got away with murder at the scrums", a comment supported by Chiefs coach Dave Rennie, who said, "Everyone knows what Wyatt tries to do at scrum time. He angles in."
As further evidence that Crockett's reputation precedes him, he was the only Crusader in the top 25 for penalties conceded, being pinged 19 time during Super Rugby.
Crockett, as befits a man who has been in the professional game for the better part of a decade, doesn't spend much time thinking about how he is seen.
All he knows is that for the first time since making his test debut, he has a chance, with Tony Woodcock injured, to enjoy an extended run in the All Black No1 jersey.
"Earlier on in my career I conceded a few penalties, and that is when you go away and look at your game and make sure that technically you are doing the right things," Crockett said. "I am really confident that under the tutelage of [All Black forwards coach] Mike Cron and Woody [Woodcock] I have worked hard on my technique and that I am scrummaging well.
"It's not something I have thought too hard about. I can only play the next game and make sure I do that well so I don't get too caught up in any perception people have of me. I just focus on the next game."
That's the formula with which Crockett will stick throughout the Rugby Championship. He can have a prolonged run of starts, and the opportunity is there for him to kick all the niggle about his technique.
If the All Black scrum holds up as well without Woodcock as it did in June with the veteran at loosehead, Crockett will have gone some way to establishing his credentials as a bona fide scrummaging force in the test arena.