On the eve of this year's first Bledisloe Cup match, NZ On Screen Content Director Irene Gardiner selects some rugby-related screen treasures from years gone by.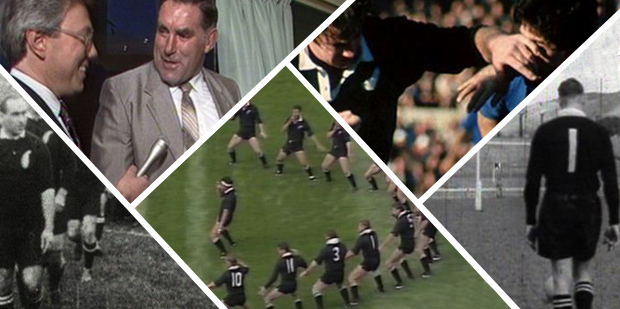 With this year's rugby season in full swing, and in an era where television coverage of rugby is extensive and polished (and often not free), it's interesting to look back at some rugby programming from the past.
NZ On Screen has a variety of rugby documentaries from through the years, as well as vintage match footage, This is Your Life specials on assorted rugby greats, and other screen gems about New Zealand's favourite game.
The most viewed rugby title on the site is Ric Salizzo and John Kirwan's 1989 documentary The Good, the Bad and Rugby - one of the first docos to take a behind-the-scenes look at the All Blacks on an international tour.
You can see the documentary here:
Also very popular with rugby fans, is this rare early footage of the 1925 Invincibles team. This silent film shows two legendary All Black teams in action. The film opens with a roll-call of the returning Invincibles, who were unbeaten on their northern hemisphere tour of 1924/5. It features Invincibles' match highlights, and also includes footage of the 1905 Originals.
You can watch the All Blacks Invincibles Tour here:
Continuing with the vintage rugby theme is The Lion and the Kiwi - a National Film Unit documentary following the British Lions 1959 rugby tour of New Zealand. Prior to live televised sports coverage, match highlights were rushed onto cinema screens, and the NFU tour coverage from this year was later edited into this feature length doco.
You can watch The Lion and the Kiwi here:

Moving forward 10 years to 1969, and the BCNZ (as TVNZ was then known) was also getting into behind-the-scenes rugby documentaries with this Feltex Award-winner The Making of an All Black.
Match-day superstitions and training routines are analysed. Colin Meads relays his fitness regime, and there are musings on all things rugby from players, fans and players' wives.
View The Making of an All Black here:

Colin Meads has also been the subject of a This is Your Life special. His show was made in 1988, and hosted by Bob Parker. Guests included fellow All Black legends, and Irish referee Kevin Kelleher, who controversially ordered Meads off the field in Scotland in 1967.
You can view This is Your Life - Colin Meads here:

And now for something completely different. If art is more your thing than sport, this might be the rugby for you. Made by the NFU in 1980, the award-winning short film Score sets footage from the 1979 French rugby tour of New Zealand to the classical music of Tchaikovsky.
The result is strangely compelling. You can see Score here:
For more classic rugby, check out NZ On Screen's full "Rugby" collection here.