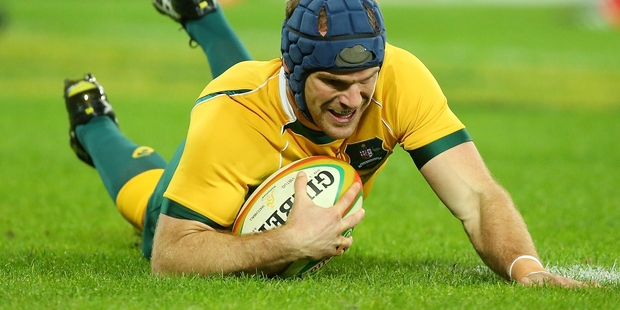 He's a budding lawyer but, after two broken necks in less than a year, Pat McCabe never thought he'd be defending the All Blacks.
But that's what McCabe will be doing on Saturday night at ANZ Stadium after crowning his remarkable comeback from career-threatening injury with a recall for his first Wallabies start in almost two years.
A Robbie Deans favourite who played in the centres in Australia's World Cup semifinal loss to New Zealand three years ago, McCabe has scarcely been sighted in a gold jumper since breaking his neck on the 2012 spring tour.
His last test start came against France in November 2012 and, even after recovering from a second fracture sustained against the touring Lions last year, McCabe thought his international career was over at just 25.
"There's certainly been a lot of moments where I didn't think I'd be back here, or a few moments where I didn't think I'd be playing again," McCabe said after answering the call from Wallabies coach Ewen McKenzie.
"I guess it's part of the ride and I've learned to enjoy the highs, but you realise the lows are never too far away. So I'm hugely excited about the opportunity. It's certainly one I didn't think was going to come again and one that I can't wait for."
McCabe ended the Brumbies' Super Rugby campaign on the bench, but McKenzie said the versatile utility never left his radar.
He said both McCabe and fellow winger Rob Horne were the rugged style of characters Australia needed on the end of their backline as they strive to break the All Blacks' 12-year stranglehold on the Bledisloe Cup.
"They're fairly uncompromising types of players in attack and defence. They run hard and carry. We've got to be relentless in doing that," McKenzie said. "We know we've got to play 80 minutes, so they're 80-minute-type players.
"We know the All Blacks will kick lots of balls to us and, when I first met Patty, he was a fullback and he's played there for the Brumbies this year ... His skill set suits what we want to do."
McCabe is three-quarters of the way through completing a law degree, "so that was looking like the future - and probably will be at some stage. I'll have to get a real job eventually," he said. "But for the moment, I'm loving being here and I can't wait for Saturday night."
- AAP