All Black assistant coach issues warning as Aussies bask in Waratahs' Super victory.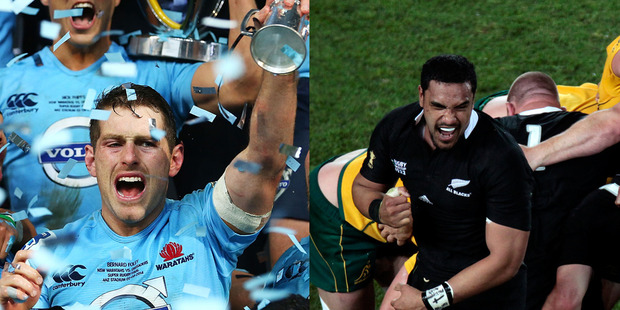 In what is likely to be a recurring theme this week, the All Blacks dropped gentle reminders yesterday that test football is all crunch and grind and an entirely different business from Super Rugby.
It wasn't an exercise in stating the obvious - but a way of suggesting the Waratahs' recent Super Rugby title counts for precisely nil in regard to Saturday night's Bledisloe Cup clash.
More All Blacks v Wallabies coverage
ABs: Expect mice and not lions, psychologist
Five great Sydney showdowns
It was also a way of hinting that the All Blacks, undefeated against the Wallabies in their last sevens tests, aren't yet convinced that Australia's tight five are equipped to handle themselves in the big-boy world of the Rugby Championship.
Rejuvenation is the buzz word clinging to Australian rugby but the pass-and-dash style of the Waratahs perhaps only papered over some cracks.
The Super Rugby champions' scrum was barely holding together in the final - and that was on a night when there were only six. Their lineout wobbled too and - being acutely aware of the threat the Wallabies pose with ball in hand - restricting both quantity and quality of their opponents' possession will form a key plank of the All Blacks' game-plan.
"You could debate that it has maybe boosted a bit of confidence," All Black assistant coach Ian Foster said of the Waratahs' title. "But the Wallabies is a different environment and international rugby is different to Super Rugby so there are a couple of pretty significant variables that are different and the step to international rugby from Super Rugby we think is a significant step. We have got make sure it is on Saturday night."
Brodie Retallick went further than Foster, the big lock being adamant the All Blacks not only had to raise the intensity in Sydney, but that they had to do it immediately. In the June series, the All Blacks were fortunate to win their first test - playing as badly as they did - and were slow into their best work in the second test.
If they are similarly sluggish on Saturday, they may not be able to preserve their unbeaten record in the Rugby Championship and also secure a world-record 18th straight test win.
The Wallabies, as everyone surely knows, are a team that runs best on confidence. If they can start well, score some early points and lift the crowd, they will become that much harder to subdue.
This point hardly needs to be made within the All Black camp. Most of their players have been around for long enough to know how the build-up week typically runs.
The Wallabies like to assure their public they are on the way up - on track towards a better performance and maybe even on the cusp of a new era of transtasman dominance.
There's no shortage of hype, optimism and self-belief - then the game is played ...
The Wallabies haven't had the Bledisloe since 2002. They have won only five of the last 30 encounters.
Read more
* Justin Marshall: The key factors for the Rugby Championship
* Thirteen All Blacks who never returned from war
"That's just Australia isn't it," said Foster in regard to the positive noises emanating from across the Tasman. "They are obviously preparing and want to build confidence in themselves and we are the same. I guess we just go about it in slightly different ways.
"I guess it's testament to the fact this is a very big game and there is a lot of attention on both camps and both camps have got to answer the questions that the media put in front of them. So there have been things said. Overall they obviously feel they are in really good shape and it is our job to make sure we get in really good shape and that [on Saturday night] we prove our goal."
Tight five ready to dish out the usual domination against Wallabies
In a world of constant change, front row forwards are reassuringly immune to new ideas with the All Black tight five primed to make the Bledisloe all about the set-piece.
ANZ Stadium will be cluttered with world class backs and miracle men who can turn the game on an act of brilliance but the outcome, so the behemoths reckon, will still effectively hinge on the quality of possession produced by the respective teams.
Nothing really changes in the world of the tight five - the test football buck stops with them. It's not possible to showcase the beauty unless the beast is just as prominent. Physical presence is everything. A dominant scrum is priceless and a supply of clean ball off the top of the lineout imperative to both sides' attacking ambitions.
"It's important in any game," said lock Brodie Retallick when asked if winning the war up front will be the key to Saturday's test. "Whoever dominates up front is probably going to get the win at the end of the day."
The Wallabies must hate the constant cloud that hangs over their tight five: the court of public opinion hasn't been kind about them in the past decade.
From All Black coach Steve Hansen down to casual armchair analysts, opinion is consistent that New Zealand's advantage lies in their superior scrum, lineout and presence in the collision. It's been this way for more than a decade and despite the Waratahs' recent Super Rugby success, there has been little reason for that perception to be altered.
Until the Wallabies' tight five actually deliver a string of impressive, physical performances, the All Blacks are going to fancy they can win the war upfront every time they play.
"I'd like to think that is the mind-set we take into all the tests we play whether it is the Wallabies or not," says veteran hooker Keven Mealamu. "There is a real emphasis on making sure we nail our set-piece because we can launch off that and set our backs alight. It's no different to any other test. The biggest challenge is understanding what is ahead of us and staying in the present.
"Like I say, there is nothing different to any other test we will play. There is a little bit of disappointment from the boys who played [Super Rugby final] in Sydney a week ago. We are going to really pull on their excitement to get back out there.
"They [Australia] are a smart rugby nation and most of the tests I have played against them they have been at a high tempo. They have always been rugby played at a good level good skill and good speed."