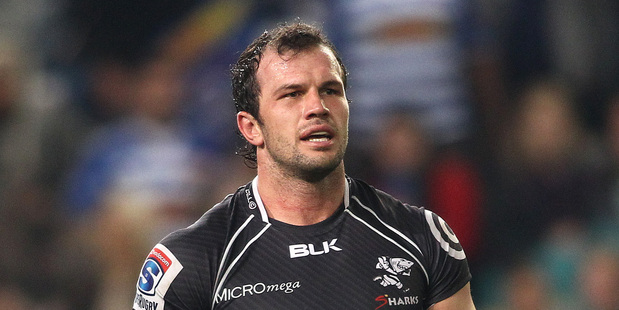 The real Beast roaming around the Super 15 rugby fields is Sharks captain Bismarck du Plessis.
The bloke next to him at loosehead prop, Tendai Mtawarira, is dubbed the Beast who provokes rumbling shows of affection from supporters when he heads off on a run.
His impact, though, is cosmetic compared with du Plessis.
That showed up at the weekend when Mtawarira sat injured in the stand and his teenage replacement, Thomas du Toit, helped engineer the set-piece demolition of the Highlanders. He was impressive and looks a strong prospect to make more of an impact than Mtawarira, who is a decade older.
The real fiend, though, is du Plessis, the senior hooker and captain of the Sharks who dispenses leadership, punishment and direction with relentless venom.
He may be the premier hooker in world rugby with 60 tests in his memory banks and a presence which is a reminder of the days Sean Fitzpatrick roamed the global rugby paddocks.
When they had chances to squeeze opponents they were first to apply the headlock.
Teammates were not excused either. When halfback Jaco Reinach deviated from the Sharks' plans, du Plessis delivered his displeasure in disdainful Afrikaans.
Winning is the autopilot setting for du Plessis, who charged through rugby at Grey College in Bloemfontein and had World Cup winners' medals at junior and senior level by the time he was 21.
When Jake White returned to coach the Sharks this season he handpicked du Plessis to lead the team and their recovery. He wanted to change the forces in the squad, he wanted a proven winner to lead the team and someone he rated at the apex of world rugby in his position.
"I just felt this group of players needed that sort of captain, someone who had won. Bismarck demands things of his players. He has a massive presence, he is very tough on them but they needed that and they have responded," he said this year.
In his quest to improve every aspect of his game, du Plessis often ascends two floors at the Sharks headquarters in Durban to chat about strategy and life with his chief executive and former Springbok and Sharks leader, John Smit.
"What I respect is that he could go anywhere in the world and earn five times what he is now and still get the guarantee from [South Africa coach] Heyneke Meyer about being a Springbok in the next World Cup," White said of his skipper.
"He's chosen to stay here. It's [the captaincy] not a reward for that but it shows he is genuine."
In May, du Plessis led a depleted Sharks side to a remarkable win against the Crusaders in Christchurch. This weekend the Crusaders will not be as vulnerable.
They know what's coming. The game will be decided as much on attitude as tactics. The Sharks' direction will come from du Plessis, the bloke with the Popeye biceps, who knows what it is like to be a winner.