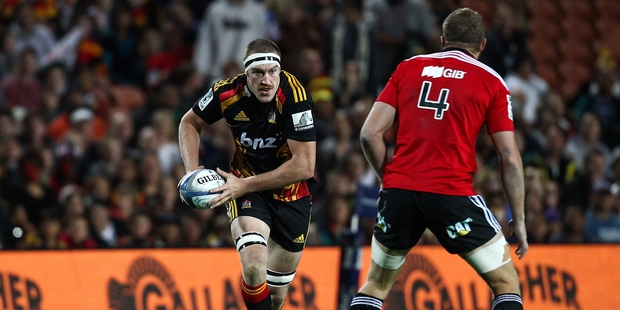 They have wobbled and battled, scrambled and scraped their way to the final six without ever looking convincing and yet now they are in the playoffs, the Chiefs have the look of champions.
Finals football is totally different to the round robin - form goes out the window. How each team arrived in the top six is irrelevant - they are there and if they can come up with the right game-plan, make the right selections and execute under pressure, they are a big chance.
That's the advantage the Chiefs have. Of the six teams left, the Chiefs are the only side in recent times with a successful track record in knock-out football.
The Waratahs finished a country mile ahead on the table and have a bit of dash and swagger about them.
They have, superficially, looked the real deal but the next three weeks - two in their case - drill deep into the character and resilience of every side.
Pressure does all sorts of funny things to coaches and players and the Waratahs, in previous years when they have made it this far, have been exposed as being exactly that - superficial.
Maybe this year will be different for them as it could be for the Crusaders, who were once the masters at knock-out rugby.
They lost their touch, however, when they lost former coach Robbie Deans. Everyone knew throughout the first decade of the millennium that rugby was an 80-minute game and at the end the Crusaders win.
They were like the Germans at football World Cups - a team who seemingly lived for the big occasion to showcase their efficiency, cohesion and clinical nature.
Under Todd Blackadder, that hasn't been the case. They have been more like the Dutch at football World Cups - an extraordinary bundle of capability with an extraordinary ability to not quite deliver.
The Sharks, Brumbies and Highlanders are the wild cards - they each have qualities, each have capacity to win but perhaps only once: none of these three appeal as having the depth of personnel and resilience to go all the way.

The Chiefs, though, have been here and done that - they are unbeaten in knock-out rugby under coach Dave Rennie. This year is going to be tougher in that they will have to work their magic for an extra round and they will have to do it away from home.
Tougher, but by no means unachievable. "We walked off the field against the Highlanders [in late June] and it was a bit of a sad changing room," says Rennie.
"I was on my phone doing some calculations and I pointed out that if we got it right and picked up the odd bonus point we could potentially finish fourth and get a home playoff.
"There is a hell of a lot of belief in this group and I guess we have got a lot of guys who have been here before. It has been a tough year and it is an incredibly even competition so we just have to get it right for the next 80 minutes and stay alive.
"You have to pull out a big 80 each week. Teams in our position are three games away from winning the championship. We just need to keep building on what we have been doing."
That belief will be vital. That knowledge of what it takes to win under pressure will also be vital, but the Chiefs' trump card may be the inspirational qualities of their three All Blacks - Liam Messam, Brodie Retallick and Aaron Cruden.
Retallick was rightly called the best lock in world rugby by Rennie; Cruden is running freely again and Messam was outstanding at Eden Park on Friday night.
The Chiefs are going to have to win this the hard way - something that won't faze their big three.
"In the past we have been pretty good away from home," says Rennie. "This year we have only won a couple and drawn a couple. It's a challenge but we will back ourselves to go anywhere and have a crack. There is a lot made of travel - between Australia and New Zealand it is not really a biggie - and I think we will be heading somewhere in Australia.
"Liam has been incredibly inspirational off the field, too... you only have to hear the way he talks and the boys will follow him."