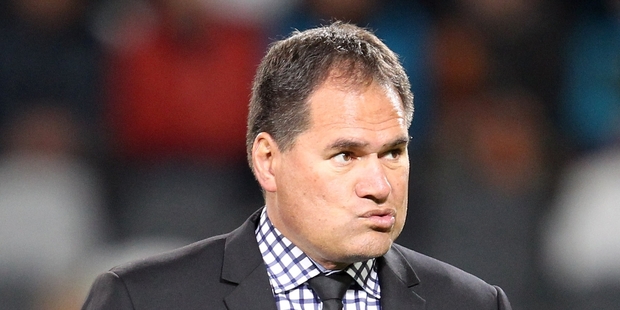 If it takes until their backs are against the wall for the Chiefs to find true form, then the champs are exactly where they want to be tonight.
The Chiefs must continue a late-season surge and end the Blues' unbeaten record at Eden Park if they wish to reach a third successive Super Rugby post-season and prolong their search for a third successive title.
It may ring slightly hollow, given they took top spot in the first two years, but the Chiefs have prided themselves on thriving in adversity throughout Dave Rennie's reign.
First, in 2012, it was a fresh start, with an overhauled playing roster and a revamped coaching staff attempting to silence the doubters who suggested the Chiefs would continue life as New Zealand sport's ultimate underachievers.
Then, a year later, there were few within Super Rugby who felt the Chiefs could repeat the feat, not without Sonny Bill Williams and not with the rest of the competition apparently figuring them out.
All the uncertainty forged an "us against the world" mentality in Hamilton, one that has again come to the fore during this campaign. This time the Chiefs have no one but themselves to blame for the lowered estimation in which they are held, but that outside assessment is exactly where they want to be.
"If you look back in 2012, we had very much that attitude," said assistant coach Wayne Smith. "We were playing a season on the back of very little success and with a new group of players - there was very much that feeling of us against the world.
"It was probably the same last year, where not many people thought we'd back up. People thought we'd probably fall over so there was the very much same feeling.
"This year there's been a different sort of pressure. Every team has seen us coming, every team's built up for the Chiefs as a big match and we've had to deal with that. So it's been slightly different, but we've got ourselves in this position and only we can get us out of it."
They made a good start towards climbing out of that hole last weekend against the Hurricanes, finding their feet in a must-win game. And while the Chiefs can no longer reach the summit of the New Zealand conference, Smith hopes the urgency exhibited last weekend can continue to tonight.
"There was a lot of desperation - there was just no other way for us," he said. "We either won or we were gone, so that was a big part of it.
"Again, it's do or die. We have to win if we want to keep going, and we do want to keep going.
"We've been to South Africa and been dead in the water, really, out on our feet, yet we've come back twice and scored incredible draws out of nowhere. So we've got that potential, but that guarantees nothing."