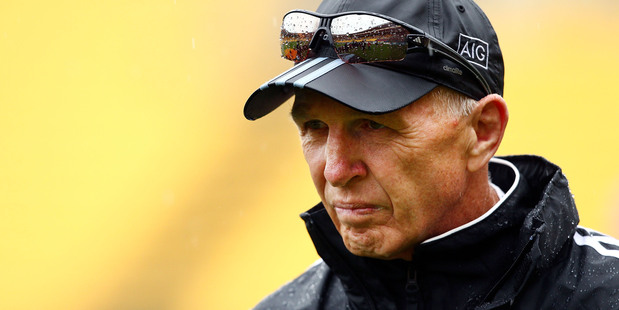 New Zealand sevens coach Gordon Tietjens has passed up the opportunity to include Super Rugby recruits as he today named his team to compete at the Commonwealth Games.
The 12-strong New Zealand side aiming to win a fifth straight gold medal in Glasgow is packed with experience from the sevens world series, with Pita Ahki the only player who featured in the Super Rugby season.
Three players - captain DJ Forbes, Sherwin Stowers and Tim Mikkelson - return from the team that claimed gold fours years ago in Delhi, with Tietjens believing the squad is a good blend of experience and young talent.
"It's a strong squad and the majority of the players played in the world series and played exceptionally well," Tietjens said. "Pita Ahki is a very good sevens player and excelled for the Blues this year and performed very well in the recent trials."
Two additional players will be named as reserves at the end of a week's training in Mt Maunganui and will travel with the team to the Netherlands for a pre-Games training camp.
The team departs for the Netherlands on next Monday, with the tournament beginning on July 26 at Ibrox Stadium when New Zealand will play Canada, Scotland and Barbados in pool play.
"There is some experience there in a team which will be well led by DJ Forbes," Tietjens said. "You need those players and among them there are new younger players at their Commonwealth Games who will feel the pressure and it is different pressure at a games.
"To win, it's all about consistency. It's being accurate when you need to be, defensively and dominating possession. If we can play consistently well, and having a strong bench will help, then that plays a big hand in being successful.
"Winning a gold medal at a Commonwealth Games is very special. There is nothing better than seeing a player being presented with a gold medal and listening to the anthem. I am confident if these guys can perform to the best of their ability and be on top of their game we can go very well."
Sevens team to compete at the Commonwealth Games in Glasgow:
•Pita Ahki (North Harbour)
•Scott Curry (Manawatu)
•Sam Dickson (Canterbury)
•DJ Forbes (Counties Manukau)
•Bryce Heem (Tasman)
•Akira Ioane (Auckland)
•Gillies Kaka (Hawke's Bay)
•Ben Lam (Auckland)
•Tim Mikkelson (Waikato)
•Declan O'Donnell (Waikato)
•Sherwin Stowers (Counties Manukau)
•Joe Webber (Waikato)
- APNZ