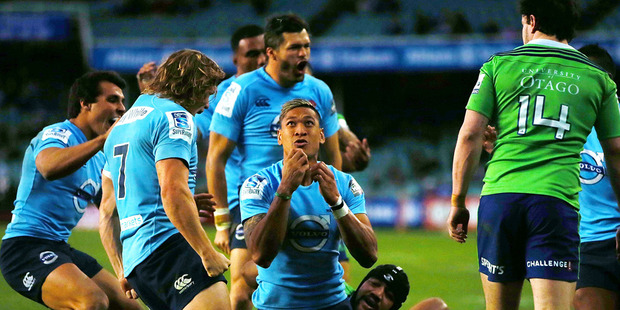 Waratahs 44
Highlanders 16
Congratulations to the Waratahs, who will finish top of the Super 15 which brings a bit of glory and playoff advantages.
The good news for Australian and world rugby is this: Aussie union needs good news stories as it battles the other codes and tries to resurrect its position on the international stage. World rugby is always better when Australia is strong. For starters, they treasure attack and have produced many of the best backs in rugby history.
The Waratahs' sparkling victory over the Highlanders in Sydney was a decent spectacle and another vote for the advantages of daylight rugby. It was way better than the error-ridden stoush between the Crusaders and Blues.
The bad news for the Waratahs is they are not clearly the best side in the Super 15.
Just like the NRL, the Super 15 is a form muddle. In rugby league's case, the salary cap has helped turn the competition into a lottery. In rugby union's case, an ever-increasing number of teams and the departure of players for big money elsewhere has diluted the quality while the conference system skews the points table.
Form and results are so scrambled in the Super 15 that unlike many previous years, there won't be a clear favourite going into the finals.
The Waratahs have a history of flattering to deceive which is also hard to ignore. If the Crusaders can put out their best side, and Todd Blackadder gets his selections right, they are probably the side to beat. Even then, their form is ridiculously erratic.