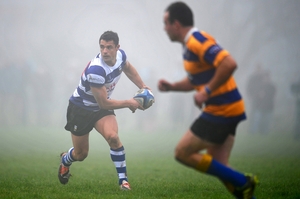 I heard Andrew Mehrtens talking the other day about how he felt Daniel Carter would be best served by playing his way back into the All Blacks via the provincial championship. Not a bad idea, that.
When you look at how fragile Carter has been in the past couple of seasons, easing him in gently is not a silly idea. There would also be obvious benefits to the competition, having a player of Carter's standing being involved all the way through.
But it comes down to what he wants to do and what he feels he can do and I would imagine he'll want to get back into test rugby as quickly as he can.
It's probably going to end up being a little hard on Colin Slade. He's played well for the Crusaders - he took a wee while to settle - but he stuck at it and he's had a purple patch. My best guess would be that, if both men stay fit, Carter will probably come off the bench again next week for a longer stint with a view that he'll win a start in the not too distant future.
It would be pretty harsh on Slade if he was dropped to the bench after the way he's played. But I'm not sure that's what they will do. They need quality and experience in their backline, especially in the backfield.
Slade is comfortable at fullback and, with Israel Dagg struggling with a knee injury, the former may be pushed back there. It's not inconceivable that Carter could be asked to play at No 12 with Ryan Crotty at centre.
Whatever happens, if Carter is going to be selected to play in the Rugby Championship, then he has to merit selection. I know Aaron Cruden was a bit rusty in the first two games against England but, to be fair, just about everyone else was. Both Cruden and Beauden Barrett played well in Hamilton, though, and if Carter is going to come in ahead of them, then he will need to play well to justify that.
As to whether he can ... I'm probably about 50-50 on that.