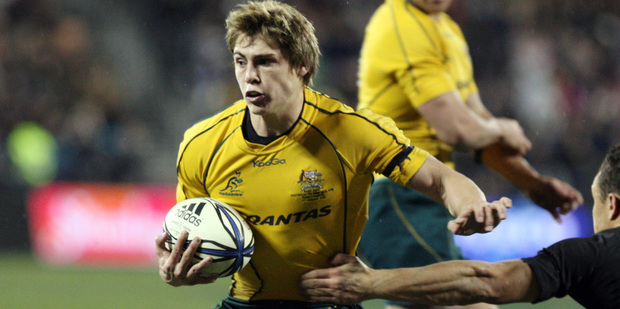 A one-time Wallabies playmaker, James O'Connor, is welcome to return to Australian rugby - but the ARU won't be paying his bills any time soon.
The ARU cut O'Connor last year after a series of off-field misdemeanours, but he is said to be close to signing with the Queensland Reds for the 2015 Super Rugby season.
After a stint with London Irish, the 23-year-old is eager to push his claims for a Wallabies recall for the 2015 World Cup.
ARU boss Bill Pulver said yesterday he'd love to see the 44-test backline utility back in a gold jumper, but even then he wouldn't be considered among the country's top-25 players to receive a top-payment from Australia's governing body.
"I can tell you the ARU is not going to sign a contract with James," Pulver said. "Having said that, I would love to see James back in Australian rugby. I think he's an incredible talent.
"We discontinued the relationship with him a year ago for the right reasons, in my view.
"That doesn't mean he can't come back with the right attitude to be a wonderful contributor to Australian rugby going forward."20-06-2014 05:00:00
O'Connor would likely need to play two more years for the Wallabies to be eligible for an ARU contract on top of any state deal he may earn.
"We basically only provide top-up agreements to players who played fairly continuously with Australian rugby," Pulver said.
- AAP