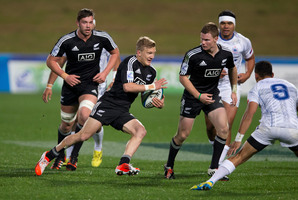 I'm pretty gutted to be out of the tournament with my ankle injury, but I'm excited that the boys are now in the semifinals and have a chance to beat South Africa to make it to the final.
The injury happened on Tuesday in the first half against Scotland. Some people were worried I might have aggravated it by staying on and trying to run it off for a few minutes, but that wasn't the case. It didn't make it any worse.
So now I'm in a moonboot and crutches, and staying back at home. But that won't stop me getting down to training and helping the boys where I can with tactics and that kind of thing. I'm looking at four or five weeks out but hopefully I'll get back for the Blues against the Chiefs (July 11).
It was funny on Tuesday. We knew we had to focus on ourselves, but in the back of our minds we were very reliant on other results. I was on the bus getting updates from mate Michael Collins, who was in this team last year. We were stoked when we found Wales had won their game, but it would have been for nothing if we hadn't got the bonus point and won by more than five against Scotland.
The way we wanted to play didn't change too much by kickoff, except we just had to be aware of what we needed out of the game.
The boys were pumped in the changing rooms after that. It was a real contrast to the scene after we played South Africa last Friday when it looked like we were out of the semifinals.
Richie (Mo'unga) will step into my boots and do a good job. He's a high quality player and Damian (McKenzie) could also do a job there.
There is an extra day's recovery before the semifinal. Everyone has to be really clear on their roles and declutter their minds so they can get out there and play without overthinking too much.
South Africa stick to their knitting and they're a really good side, we all know that. But from our perspective, we think if we get our game organised then there's no reason we can't beat them. I reckon if we can get enough ball, and sort the set-piece, we're a good chance against a team like South Africa.
We feel we've been given a second chance and are keen to take it with both hands in front of our home fans.