A year on from weather-whipped schools game, teen is ready for South Africa pressure.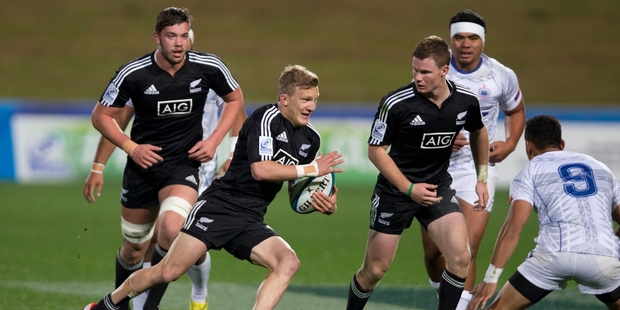 Just over 12 months ago, Damian McKenzie was playing in one of the most bizarre schools games seen in New Zealand.
That was the televised Christ's College versus Christchurch Boys High School First XV clash in which snow, sleet and hail pelted the players, almost causing the match to be abandoned.
Fast-forward a year and McKenzie is basking in Auckland's winter sunshine and emerging as a key cog in New Zealand's drive to regain the Junior World Championship.
The 19-year-old showcased his considerable talents from fullback on Monday night as New Zealand defeated Samoa, but he is really a first five who can cover the back, much like Gareth Anscombe and Beauden Barrett, who did such a sterling 10-15 job in the 2011 JWC.
There are shades of Barrett about McKenzie's play too.
He is not a big man by today's rugby standards, listed at just 78kg, but he can sniff a gap and enjoys manipulating a defensive line rather than taking the direct route favoured by some beefy backs.
Against Samoa he ran freely and laid on two tries with perfectly timed passes. The first was when he identified a mismatch to send Jackson Garden-Bachop in for his double, and the second a nice short ball from which Tevita Li hit top gear on an angled run to the line.
"I'm happy to play anywhere, to be fair, whatever's best for the team," said McKenzie. "I love playing 10 and have always played there, but there are similar skills in playing 15 and it's more open for running."
His rugby journey started in Gore, went north for his Christchurch schooling, and is now settled in Waikato, where he is in the province's academy, plays for the University club (with four of his Under 20 teammates), and does communication studies part-time.
McKenzie first burst into national prominence with the NZ Barbarian Schools side of 2012, from which several have graduated to this team.
"That was a good year. I suppose that was the first sniff for me as to what international rugby is like. I enjoyed that.
"I was lucky enough to be in the NZ Schools last year to Australia. It's like a stepping stone, I guess. A few of the boys have come through and made the 20s a year early."
How different are the schools and Under 20s set-ups?
"Once you get out of school, the environment is a lot more professional with more media and hype."
NZ has done a thorough review of the win over Samoa. Now it is a matter of putting it all out on the track tomorrow night against South Africa, where one would expect McKenzie to again run out wearing No 15.
"We just have to empty the tank, do all the little things right and just play smart footy. Hopefully that works on the day, but it's not going to come easy," he said.
Very true, not when his likely opposite Warrick Gelant showed all his smooth running skills against Scotland, scoring a try and causing havoc for the defence.
The pressure will be on tomorrow night, but McKenzie has handled it with aplomb in the past. He landed a last gasp sideline conversion for NZ Schools to sink Australia last season, and scored a brilliant solo try for Christ's College against Otago Boys High a few months before that.
At his current rate of development, McKenzie might be a strong chance of playing ITM Cup for Waikato later in the season. He may even mark his brother Marty of Taranaki ... at first five or fullback.
Damian McKenzie
Born: April 20, 1995
Positions: Fullback, first five
Club: Waikato University
First XV: Christ's College 2011-13
National rep teams: New Zealand Barbarian Schools 2012, New Zealand Schools 2013.