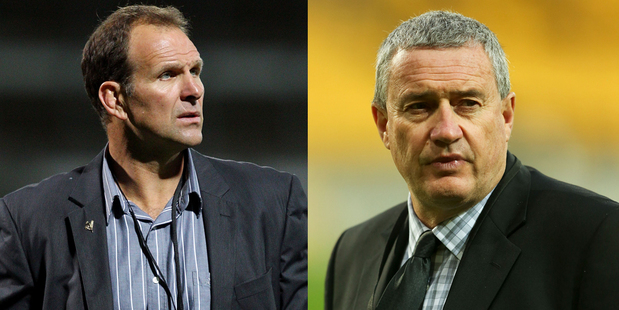 Chris Boyd and John Plumtree have been named as the Hurricanes new coaches for next season.
The pair, who coached the Durban-based Sharks together in 2009 and 2010, have today been announced as the new coaching duo to lead the Hurricanes into next year's campaign. They will replace Mark Hammett and Alama Ieremia.
Current Wellington Lions coach, Boyd, will take up the head coach role, with Plumtree as his assistant.
Boyd said he was looking forward to the challenges that would come with his new appointment, both on and off the field.
"There has been a lot of hard work poured into the Hurricanes club over the past four years, and it's now our job to build on that foundation," he said.
"Our main focus is to create a brand of football that people find attractive to watch, and develop a team that people want to get behind."
For Plumtree, the move back to Wellington means stepping away from his current international role as Ireland's forwards coach.
The 48-year-old said despite a number of years away from New Zealand, the passion he still held for the team that represents his home region contributed to his return.
"Coming from Taranaki, and after spending a lot of time in Wellington, I've always had a strong allegiance to the Hurricanes so to move to the club will be a nice homecoming.
"I'm extremely excited about reconnecting with Chris and building on our coaching relationship alongside what is, and always has been, a very talented group of players."
Both Boyd and Plumtree have signed two year contracts with the Hurricanes.
Coaching CVs
Chris Boyd
2012-present - Wellington Lions Head Coach
2013-2014 - New Zealand Under 20 Head Coach
2011-2012 -New Zealand Under 20 Assistant Coach
2011 - Tonga Rugby Union RWC Defence & Skills Coach
2009-2010 - Sharks Super Rugby Assistant Coach
2003-2006 - Wellington Lions Assistant Coach
John Plumtree
2013 - Ireland Rugby Union Forwards Coach
2008-2013 - Sharks Super Rugby Head Coach
2007 - Sharks Assistant Coach
2001-2006 - Wellington Lions Head Coach
1997-2001 - Swansea Head Coach