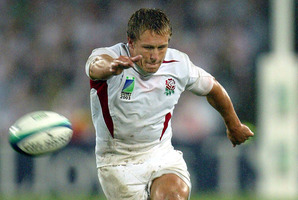 Clive Woodward has backed Jonny Wilkinson to become a "fantastic coach" after the great England five-eighths announced he would be retiring from playing at the end of this season.
Woodward gave Wilkinson his test debut when the No10, who turns 35 at the weekend, was a teenager and the pair were still together, as coach and player, when Wilkinson kicked the extra-time drop-goal that won England the 2003 World Cup final.
Wilkinson, who quit the test scene after the 2011 World Cup, expressed an interest in coaching when announcing his retirement on Tuesday.
And Woodward, in his column for Britain's Daily Mail, said the Toulon playmaker was ideally equipped for the task.
"You often find that with superstar players - he was a complete sponge for new knowledge," Woodward said.
"It is why he would make a fantastic coach if he chooses to go down that path. Imagine what it would be like for any young No10 to have Jonny Wilkinson mentoring you."
Woodward, himself a former England centre, was in no doubt of ace goalkicker Wilkinson's talent from the moment he first met the rising Newcastle star.
"When I took over as England coach, I challenged my players to become the best in the world in their position.
"By the end of 2002, there wasn't a single coach on the planet who wouldn't have picked Jonny Wilkinson as their No10. He had all the skills needed to become the world's top fly-half, but what set him apart was his passion to succeed in everything he does.
"Even as a young man he wanted to be measured against the best.
"I first saw Jonny training with the England schoolboys at Bisham Abbey. He was an incredibly polite and shy young man, but he had the skills and attitude every coach hopes to find."
Woodward added that Wilkinson's immense appetite for defensive work had fundamentally altered the role of the first five-eighths.
"He changed the way the position was seen: historically everybody attacked the No10 channel, but Jonny's defensive game changed that.
Wilkinson is due to play in two more matches before he hangs up his boots completely.
On Sunday, he will try to help Toulon win back-to-back European Cups in a final against Saracens in Cardiff, the first leg of what the French club hope will be a "double" ahead of the domestic Top 14 final against Castres the following week.
- AFP