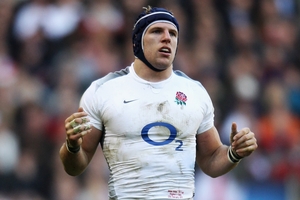 James Haskell has a gift for getting noticed but after the controversies, business ventures and celebrity girlfriends, he hopes to catch the eye of one person in particular.
The larger-than-life Wasps flanker Haskell and England coach Stuart Lancaster are not the most obvious match, but Haskell hopes they can get together anyway.
It's 14 months since his 50th test appearance when England (and the back row in particular) were humiliated 30-3 by Wales.
Haskell may not have helped his cause by playing for clubs in France, Japan and New Zealand, but his feet have been firmly planted on English soil for the past two seasons, and he is free of the knee injury that held him back last year.
He is concerned at the thought of becoming England's forgotten man, or a has-been at the age of 29.
"I miss it hugely," Haskell said. "This season was the first time I had missed the Six Nations and the autumn internationals. This is the first time for a long time I've gone a whole year without being involved with England and it is difficult.
"My sole motivation for coming back from injury, putting my body on the line and trying to play well is to get back there with England."
Haskell made his Wasps debut in 2002 and is determined to continue to drag the club out of the slump it endured while he was away.
A decent victory over Stade Francais, for whom he played for two seasons, in Sunday's first leg of the European Rugby Champions Cup play-off at Adams Park would help.
A 74-13 hammering last weekend may not have been the best preparation, but neither was it the best guide as Wasps had rested a number of top players, Haskell included.
Twice Heineken Cup champions, European rugby is part of Wasps' pedigree. Haskell is adamant that they have to get back to that level.
Domestic form is all very well, but impressing at a higher level is a far better way of getting your international aspirations back on track.
"Early in my career I was lucky that I got that exposure and experience and got to play against awesome teams and players that I would meet on the international stage."
The indications are that Haskell is firmly in the frame for a place on England's tour to New Zealand.
Decent showings against Stade this weekend and in the return match in Paris next Saturday should be enough to secure his seat on the plane.