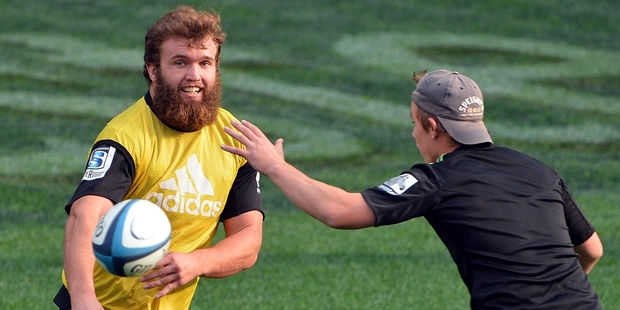 The apple did not fall far from the tree in the Coltman family.
Highlanders hooker Liam Coltman - gutsy, determined, with a motor that never stops.
That drive for the game is obviously a family trait.
Father Tom Coltman shows similar doggedness in supporting his son. How much? Well, he drives to watch every game his son plays in Dunedin.
Not a huge effort if he lived in Mosgiel, or even Oamaru.
But Coltman senior lives in Oakura - just south of New Plymouth.
A road trip to Dunedin is a journey of more than 1100km. It takes him 16 hours to get to a match in Dunedin, including a ferry crossing. Yet he has not missed his son in action at home for either Otago or the Highlanders since the burly hooker first made the Otago team in 2010.
Liam says his father could fly but is just as happy driving and never complains.
The Coltmans will be at Westpac Stadium tonight, watching their son hopefully be part of a Highlanders victory over the Hurricanes, and complete what has been a dream week for the bush-bearded hooker.
Coltman, 24, was named on Monday in the All Blacks wider training squad, and will head to Christchurch on Sunday for the first camp.
Last season he was an "apprentice" hooker for a couple of days with the All Blacks, so he is now another step closer to making the national side.
Coltman said one facet of his game was getting most of his attention.
"I've just got to keep working on my throwing. That has always been a key of mine to get right.
I just have to keep working on it and my work rate around the field," he said. "Last year [in the camp] there was an emphasis on doing your homework and knowing your role nice and clearly so you can do your best when you are on the field.
"This is the first camp I have been to and I want to put my best foot forward and tick all the boxes that they need me to do. I am a wee bit nervous but I'll just put that to the side and work through it."
A couple of years ago, the black jersey was a distant dream.
In 2012, Coltman had six months out with a bulged disc in his neck. Though it came right with rest, Coltman said it was in the end good for him.
"It was a long time ago now. It has done my footy some good - put a new perspective on things."
Coltman will duel it out with Chiefs rake Nathan Harris for the third hooking role in the All Blacks.