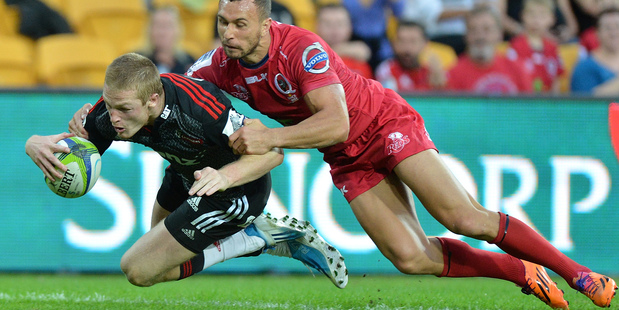 Crusaders 57
Reds 29
The task was clear. The Crusaders needed to win in Brisbane to stay in touch with the cluster of Kiwi sides chasing the Chiefs.
Read: Crusaders break Brisbane hoodoo
Recently the Reds have lost their defensive patterns and also been limp on attack but back home they hinted they were going to deliver. They probably stayed in the fight much longer than many of the Mother's Day crowd expected.
Half a game though was all they had.
Wyatt Crockett peeled their eyes back with a tap and go try then Johnny McNicholl hurt their frozen chasing line. Reds' ideas about adding to their strong winning record to top off halftime leads, was in tatters.
The Crusaders took lumps out of their rivals as their test front five wound up their power.
Behind them, in the boot of the scrum, the youngest of the Whitelock quartet, Luke, showed much more than glimpses of the talent which has attracted his franchise and the national selectors.
His reactions were sharp, his speed too when he gassed defenders to score while his relentess support play, tackling and breakdown work was notable.
Whitelock had a significant challenge to fill in again for the damaged Kieran Read. It was a weighty response.
Expectation comes with the Whitelock surname and also a suspicion, Luke may have been upgraded a little prematurely last season to the All Blacks when he got his solitary cap off the bench against Japan.
The apprentice now looks like he belongs in Super rugby and believes he does as well.