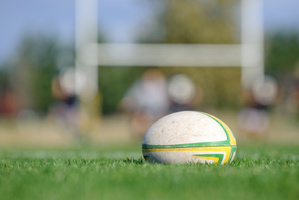 Some juicy match-ups highlight today's opening round of the Auckland 1A First XV season.
In the televised Sacred Heart-Kelston fixture, former Tongan midfielder Gus Leger will look to kick off his 1A head coaching career with a victory after a spotless pre-season record with SHC. Kelston, the West Auckland powerhouse, has missed the semis two years in a row and three will not be acceptable.
Auckland Grammar School, 2013 runner-up, and Mt Albert Grammar School, clash at Auckland Grammar in a replay of last year's semifinal. The former uncorked a superb display then to shut out MAGS, but loose forward Dylan Lam will lead a team anxious for redemption.
A resurgent Otahuhu College has a local South Auckland derby with De La Salle College.
Defending 1A champion St Kentigern College has not lost a 1A match for nearly three years, and will be tough to topple, given it has virtually half its 2013 squad returning, including seasoned prop Sesimani Tupou and halfback Sam Nock.
St Kent's is at home to St Peter's, which was much improved in 2013, and possesses talent such as halfback Lisati Milo-Harris and fullback and goalkicker Jordan Trainor. Tai Lavea is back as head coach of St Kent's, while his twin Tasesa Lavea is at the helm of King's, which has a sharp backline and hosts last season's surprise package, Tangaroa College. Tangaroa won the 2013 co-ed title and could have reached the 1A semis with an ounce more luck.
Just last weekend, Papatoetoe High School, which struggled in 2013, and Onehunga High School, won their respective promotion-relegation games. Papatoetoe edged 1B winner Dilworth School 17-14 and Onehunga was too good for Macleans College, 32-6. Papatoetoe and Onehunga will meet today.
Picking winners in this intense competition, which has shown real parity over many years, is fraught. At the First XV season launch at Eden Park on Wednesday, the 1A competition was billed as "the best schoolboys' competition in the world".
Although such grandiose claims are often hard to prove, there is little evidence to suggest this is not the case. The players are highly conditioned, skilled, and the crowds are generally much larger than club rugby, and even some ITM Cup clashes.
The 12 teams play a full round-robin, after which are the semifinals (August 16) and final (August 23). Six 1A games will be televised in all. The King's-Auckland Grammar showdown on June 14 will toast 200 matches between the First XVs, stretching back to 1896.