Champs come out of slump but local derby will be big challenge.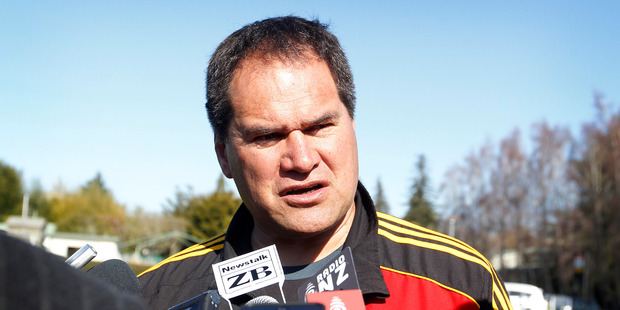 Was it a breakthrough or merely a mirage? The Chiefs will find out on Friday night in New Plymouth.
After they scored six tries to dispatch the Lions, the Chiefs' inconsistent attack will get a true test in this week's local derby against the Blues, a game with serious ramification in the New Zealand conference.
Win, and the champs will create a bit of breathing room heading into their second bye. Lose, and all five Kiwi sides could feasibly find themselves locked on 30 points.
The Chiefs' backs showed positive signs of busting out of their collective slump against the Lions, earning a bonus point shortly after halftime while exhibiting some of the running rugby the Hamilton home crowd has come to expect.
But the breakout, coming after three weeks of near-futility, could be something of a false dawn.
The Chiefs have scored 31 tries this season and 22 of them have come in four matches against South African opposition.
"They defend a certain way and they do provide opportunities if you're good enough," coach Dave Rennie said. "Maybe we've maintained the ball a bit better against the African sides and been a little bit more clinical when we've got opportunities."
Whether they can extend their scoring spree against the rapidly improving Blues remains to be seen. One thing is certain - with no more meetings with South African sides to come, the Chiefs will have to find a way through more familiar defences if they are to continue their title defence.
Following the bye, after which injured first-five Aaron Cruden should return from injury to aid the attack, the Chiefs face a final slate of four clashes against Kiwi sides, with only the visit of the Waratahs interrupting that stretch.
The strength of the New Zealand conference is evident, and, before that run home, Rennie knows his charges need further enhancement before they encounter the Blues.
"I think the Blues were pretty impressive [against the Reds]," he said. "They've really stepped it up in the last two weeks compared to their effort against the Hurricanes a couple of weeks ago.
"We know we need to step it up a lot more. We know New Zealand derby games are hugely intense and they're pretty much at full strength at the moment. It'll be a big one."
The Chiefs should have a relatively clean bill of health going to New Plymouth, with only Charlie Ngatai, who left the Lions match with a tightening calf, under a new injury cloud. But there are still several long-term casualties.
Rennie will now focus on areas where improvement is required - a scrum that suffered against the Lions, a discipline problem providing opposition sides opportunities on attack and reprieves while on defence.
But, as always with these Chiefs, it's with ball in hand that they expect to do the most damage. Friday night should provide answers to whether that remains true.
- APNZ