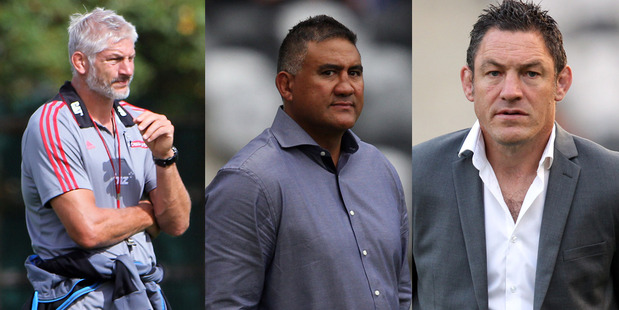 Time is that indefinable quality in sport, especially when it comes to coaches. How much time do you give them before you start looking for new ideas? And how much pressure do we put on them to be successful... quickly?
I'm particularly thinking of the examples of Todd Blackadder, Jamie Joseph and Mark Hammett when I write this.
Professional sport is a brutal business. There are times when you feel everybody is leaning on you, when the weight of the world is on your shoulders. When it comes to rugby in New Zealand, because we love it so much, that feeling is magnified.
That's in part why we are so good at it. The scrutiny is relentless and stringent. Every facet of every game is analysed and there's always 100 different ways the game could have been attacked at each point and everybody will have a different idea of how it could have, should have, been done.
As I said, this scrutiny and inherent knowledge and love of the game is part of what makes New Zealand the best, but I wonder if we've tilted the balance and have become too personal, especially when it comes to coaches. We are at risk of losing some incredible intellectual property because our expectations are too high.
Hammett is already off - where, we don't know yet, but you can't imagine it is in New Zealand because there's only one step up from Super Rugby and there are not too many vacancies in the All Blacks about now.
If you listen to the noises coming out of the Crusaders, only a title will suffice for Todd Blackadder. I find that extraordinary. The guy has taken his team to the playoffs every year he's been there. His win record must be around 70 per cent. Everywhere else in the world he'd be considered a huge success, but here he's on the cusp of failure.
We all know the pressure Jamie Joseph has been under at the Highlanders, with many believing he should have lost his job at the end of a 2013 campaign that he will admit was poor.
And this is where time plays such a curious part. A little more than a month ago, these talented young coaches were all mugs. The Hurricanes had lost three in a row to start the season and the inquest had begun. The Crusaders were struggling to put points on the board and had lost their invincibility at home and the Highlanders, well, were the Highlanders.
Now all three have put their teams in positions to make the playoffs. That's what a coach has to do. He has to give them a structure and a game plan that can lead to success. They've all done that. They've done a great job.
But here's the rub: not all of them are going to win the title and, almost certainly, not all of them are going to make the playoffs. It's bloody hard to win a Super Rugby title now, much harder than it was in the old Super 12 days. There are more variables, for a start.
Are the ones that miss out failures? Not in my book, but I suspect many will look upon them that way. That's a real shame.
I should close by saying the pressure of time does not just apply to coaches. I look upon Andre Taylor, the Hurricanes fullback, as a classic example of how time can be an enemy.
After his first year in Super Rugby, his Cullenesque comparisons were warranted and he had the world at his feet. His second campaign was tough and it took him a long time to work out how to rediscover his touch.
Credit to Taylor and Hammett here: they never gave up and now Taylor is back to his brilliant best. But in a way it's too late. Taylor has made the decision to leave. If he had rediscovered his form a bit earlier, would he have made the decision to go? I don't think so, but he felt time (there's that word again) was ticking on his professional career here and he needed to sort his future out.
We'll miss him.