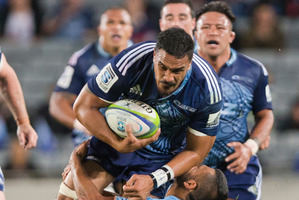 On a day of remembrance it was fitting that Jerome Kaino provided so many evocative glimpses of his former self.
Who would have realised it was 2014 and not 2011 watching Kaino? That thunderous power of his made a welcome return and he looks now to be the man around whom the Blues can mount some kind of revival.
Last night was a big game for the Blues: bigger than perhaps they would like to let on. Never mind the Benji shambles, the real pressure was coming from the points table.
They were in danger of losing touch with the rest of the conference. They needed a line-in-the-sand performance to mark the start of a resurgence or a terminal decline.
It was never particularly clear which one they were going to deliver: the lineout malfunctioned, the handling and decision-making was erratic and there was a touch of desperation affecting much of their work.
For long periods it felt like the Waratahs were the Barbarians at the gate - pounding to get in and repelled mainly by their own inaccuracies and incompetencies. They started to be quite creative in the way they managed to blow gilt-edged opportunities.
But amid the fug, there was Kaino. Faultless Kaino who wound back the clock and provided the intensity and accuracy at critical times.
The Blues have talked about his explosive gains since his return from Japan and they finally became evident. When the Blues needed some impossible ball-carrying metres, Kaino gave them.
He racked up 54 meters in nine carries - high impact, momentum-changing charges.
When they needed an inspirational tackle - the sort that turns defence into offence - Kaino gave it.
In the first half he clobbered Kurtley Beale, sent him back then held him up much as he did to Digby Ioane three years ago on the same ground. For good measure he repeated the trick in the second half and it was those little moments that galvanised the rest of the Blues troops.
"I thought he brought the edge that we all know he's got and was back to his best tonight," said Blues coach John Kirwan.
"In key moments he made big hits and carried the ball hard. That's what we need - guys making big hits and big decisions at the right time. I thought Jerome was especially good."
No question, it was a night the Blues needed a leader - someone who wouldn't waver or meld into the mass of mediocrity.
That's the true value of Kaino - his ability to be the one who takes the stand. And when he takes it, he expects others to follow.
That attitude will be important this week as the Blues have effectively bought only a stay of execution. Lose next week and they will be back at the bottom of the cliff.