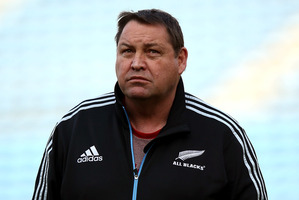 All Black coach Steve Hansen has accused players who give up their All Black dream to play for other countries of lacking "mental fortitude".
A glut of New Zealand-born and developed players - many of whom were on the verge of All Black selection- are expected to be capped by overseas nations this year, while foreign predators continue to raid in search of Kiwis they can convert.
The loss of second-tier players to foreign recruitment programmes that force them to sign their allegiance to that nation has reached alarming levels, says Hansen.
While he can't understand the long-term motives of the poachers, his frustration lies more with the young men who he says give up too easily in their dreams.
"It is frustrating and it is disappointing," he says. "Players here have a dream of playing for the All Blacks and then they suddenly give it up when an easier option comes along.
"It's not their dream but they decide to go for it and I think we need players with a bit more mental fortitude: a bit more of a constitution to dig in harder and fight for the dream they really want."
Hansen fears that post World Cup there will be an inevitable exodus of senior talent but only a sparse number of second-tier players left to take their place."Maybe, though, it says something about those athletes who take that easy option," Hansen says.
Chiefs midfielder Bundee Aki is one of the latest to commit his future to Ireland - signing a three-year deal with Connacht that will mean he cannot make himself available to either New Zealand or Samoa.
He joins other Kiwis at the province on similar deals,most notably former Waikato captain Nathan White whois likely to win his first Irish cap later this year. Former Northland captain Jared Payne is another on track to play for Ireland this year - the utility back is a possible successors to Brian O'Driscoll in the midfield.
Former Crusader Michael Paterson is eligible for Wales this year and inside back Daniel Bowden could be picked by England as a ball-playing option at No 12.