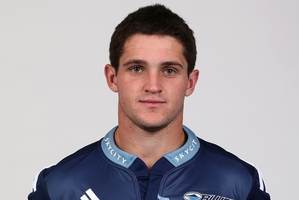 Super Rugby's break for the June tests comes at an opportune time for Blues first-five Simon Hickey.
Hickey, who has gone from being a member of the franchise's wider training group to vying with Chris Noakes for the No 10 jersey this season, is available for the New Zealand Under-20s team who will contest the Junior World Cup on home soil in about six weeks' time.
After representing the under-20s in France last year, a tournament which ended in another disappointment when Chris Boyd's team lost to eventual champions England at the semifinal stage, and then South Africa in the play-off for third and fourth, Hickey is keen to win back the cup which was New Zealand's between 2008-11.
"I've talked to the New Zealand and Blues coaches and I'm available to be selected for that team. I'll be available for the Blues and then after that for New Zealand so I won't miss any games for either team.
"I really enjoyed it last year but obviously the results were disappointing over there.
I'm really keen to get amongst it this year and be a part of that side and try to win the World Cup at home. Last year it was awesome to be able to play in France but this year it will be great to play in Auckland in front of family and friends."
Hickey said he attended Boyd's first training camp in November, but missed the one in February when he had Super Rugby commitments.
"I've kept in contact and they've been really good and so have the Blues so hopefully I'll get to have a crack.
"I think I've got a few ideas that will help and having been there before and having been in a professional environment here [at the Blues] I won't be scared to speak up second time around. I think I can have some positive impact there."
Hickey has been an impressive performer in his six appearances for the Blues this season, beginning with a home victory over the Crusaders in February. Although he missed out on selection for last night's match against the Hurricanes in Wellington, Noakes getting the nod instead, Hickey's cool option taking and goalkicking accuracy - he is kicking at 86 per cent this season - will make him a valuable addition to Boyd's team.
The fortunes of the New Zealand Under-20s have taken a dip over recent years as England and South Africa, in particular, have lifted their games. This year's tournament starts on June 2, with the final to be held at Eden Park on June 20.