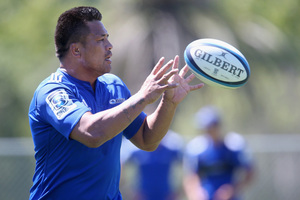 So Kevvy is going to make a return to the Super 15 field tonight. Nothing against the champion Blues hooker but I'll believe it when I see it.
He's had so many false starts in the last few seasons because of calf strains, twinges and tears that it's hard to believe those pistons will carry him on to the Cake Tin.
There might be a niggle in the warmup stretches, his tags might slip on the dressing room floor or catch in a clump of paspalum as he goes through his practice throwing routines.
Mealamu is a remarkable specimen, a terrific man and a hell of a rugby player who has played more Super rugby than anyone else in Aotearoa. On top of that extraordinary record he has played 110 tests for the All Blacks.
Perseverance is his middle name and a slogan he has lived up to and beyond since he first ran into Super rugby combat in 2000. The man will not lie down, at least not until he is ordered to by the physios and medical staff.
In recent campaigns that has been the directive as his calves deny him the repeat explosive work he is renowned for. He's managed half a game for the Blues this year so the work has fallen to James Parsons and Tom McCartney who has signed on with Connacht later this year.
Mealamu's ongoing predicament opens the All Blacks role even wider with the candidates, on the evidence of the Super 15, hardly flourishing.
There are enough of them - Dane Coles, Corey Flynn, Ben Funnell, Codey Taylor, Liam Coltman, Rhys Marshall, Parsons and McCartney - but none offering compelling selection reasons.
You may as well throw in a wildcard like Ben Tameifuna or turn Luke Braid into a hooker - Earle Kirton would love that sort of invention.
It is an issue. Andrew Hore has bandy-legged it out in the Maniatoto backblocks, Mealamu is on daily medical watch while Coles, now a 15 test All Black, is warming to his work with the Hurricanes.
Their lineout is reasonable and their scrum a little shaky which is standard under the frustrating laws. Round the field, Coles bustles with the best and has the instincts of a fourth loose-forward.
The old and the new meet tonight in Wellington as they and their comrades dust off their mental baggage in a pivotal local derby duel in the series.
It's the start of a four match sequence for the Blues who need a resurgent Mealamu to add some starch to the tight five and the side's mental sting. That impact alongside the flinty Braid and Jerome Kaino is a must for the Blues in their next section of the tournament.
If Mealamu stays intact tonight, then he has Wallabies hookers Tatafu Polota Nau and Saia Faingaa as test rivals in successive matches to further tune his game.