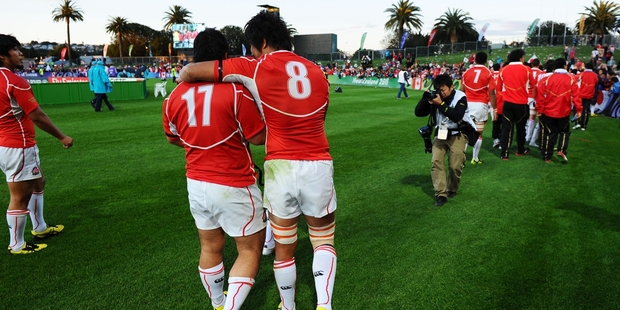 At the core of rugby's ethos is a culture of brotherhood and yet next year's World Cup already has a theme of inequality based on a funding model that will see the richest nations split $170 million in compensation payments with the minnows left to operate close to insolvency.
Canada, Romania, Georgia and the United States have recently secured their places at next year's event and now face a bleak financial future as a result. World Cup years restrict their ability to play critical, revenue-generating tests, while preparing and assembling for the tournament adds a major financial burden.
The IRB is thought to have invested around $40 million since the last World Cup in strategic development programmes in Tier Two nations. But not only is that figure dwarfed in comparison with the amount being paid to the Top 10 nations, there are serious questions being asked about the effectiveness of those initiatives.
No Tier Two nation has been able to show consistent improvement from one World Cup to the next and the current income streams don't leave them with much ability to hold cash back to invest directly in player payments and other related playing resources.
Some of the minor nations might even reach the next tournament on the verge of insolvency and as such, will face challenges persuading their players to commit. Most of the players in the minor nations have to use their own funds to cover their time at the World Cup. In 2011, it is believed the Japanese were paying their squad just $20 a day with some having to fork out as much as $10,000 to cover their own insurance.
"The funding model has been looked at a few times but I'm not sure, still, that we have got it right," says International Rugby Players' Association executive director Rob Nichol.
"We have to make sure that investment is going to the right places, in Tier Two nations in particular. We need for them to be able to access their best players and become more capable and increase the number of countries that can genuinely compete at the World Cup."
The next World Cup is expected to be the most lucrative - forecasts stating it will generate close to $600 million and yet it appears destined to once again be a tournament of the haves and the have nots.
Each of the top 10 nations in the world - the Six Nations, Sanzar and Argentina - will be paid 7.5 million ($15 million) by the IRB as compensation for missing out on June and November tests in 2015. A further 10 million has been set aside for the Sanzar nations - to compensate them for having to play a truncated Rugby Championship next year. They won't be able to play two full rounds before the World Cup kicks off.
Agreement on these compensation packages was reached after a number of major nations brought the issue of their financial pain to light at the last tournament. New Zealand even went as far to suggest they would potentially boycott the 2015 event unless there was dramatic change.
Chief executive Steve Tew said that the NZRU lost about $13 million in most World Cup years as a result of not playing June tests and also missing the chance to arrange an extra November test.
The Tier One nations shouldn't be seen as the 'bad guys': there would have been real danger of Australia going bust next year were it not for the improved terms. Scotland, Ireland and Wales are also never far from financial disaster.
Much of the frustration felt by the Tier Two nations is in regard to the needlessness of their plight: the game is generating enough revenue to be self-sustaining, it just needs more advanced and equitable models around which to distribute the funds. There is also frustration at the continued rhetoric of seeing Tier Two nations advance and yet an inability to push through other supportive measures such as changing eligibility laws to enable captured Tier One players to represent a Tier Two nation after a one-year standdown.
One breakthrough has been made for the next tournament. At previous World Cups, Tier Two nations have been handed schedules that have seen many of them forced to play four games in 16 days while the top seeds take 25. That problem has been fixed for 2015 - with the Tier One Nations agreeing to play mid-week.