The Highlanders' clash with the Bulls requires a soundtrack straight out of the 70s.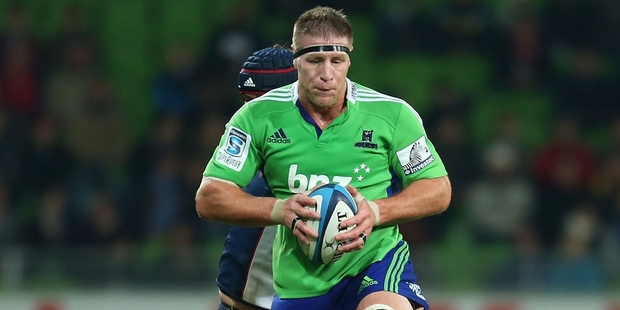 It's a victory for children of the 1970s. Brad Thorn and Victor Matfield lacing up the boots to go at it in a Super Rugby match tonight. All hail the gods of macrame. Praise Be to Sunday morning test patterns on the telly! Let's hear it for anyone who ever owned a Mambo T-shirt in their teens.
I mean, what a treat - two colossal figures of the game well past the accepted age of rugby retirement and in the heart of the action in a match that could be season-defining for both teams. Cue the flannel shirts and break out Badmotorfinger; this game requires a soundtrack from simpler times.
How could you not be excited about this? Last week big Vic was wandering the sidelines of McLean Park in suit and tie while the rest of the Bulls prepared to take on the Canes. You could see that despite having made the decision to sit out the tour, Matfield was, as usual, itching to shed the number ones and squeeze himself into his playing strip.
Actually, maybe his decision not to play on tour was to avoid ever having to wear that camouflage away kit. That's the sort of call a veteran would make. Especially one with blue bull blood.
Meanwhile, back at PJ Park in Mosgiel, Thorn was finishing up at the clubhouse after having a run for the Taieri Eels against University. Not required by Highlanders coach Jamie Joseph for the previous night's engagement with the Rebels, old gravel tones was instead intent on teaching some kid on the visiting side the subtler - and not so subtle - points of club rugby lock forward play.
The coach and the clubman. What a difference a week makes. It's just great to have two guys I don't have to think about how to shake hands with playing a game. I know it's "palagi standard" as opposed to the more informal "bro and go".
In fairness, only one of them is older than me. I'm still ahead of Matfield by three days, which means for the sake of my sanity, Thorn is never allowed to retire. It is a cruel thing to realise that the average age of a Super Rugby player stays the same while I just keep getting older. That said, it's even crueller to think how fit those blokes still are compared to me. For instance, people think my kids are cute, then look me up and down and give me that bemused stare that says, "how?" I point to my progeny and remind those people that the appearance of my kids represents my DNA. I point to myself and remind them that my appearance represents neglect.
Enough of that though. Tonight we celebrate as one great big thirty-something fraternity. Tonight we should all just relive our 20s. Even though we know it'll take four days longer to recover and we'll probably wake the kids up.
Well, get over it. If Thorn can still get the job done, then so can we! Hell, the man was playing first grade for the Broncos when I was in seventh form, and they don't even call it that any more.
And here's the crux of the matter: they are both central to their respective teams' chances tonight.
For the Highlanders, Thorn must be there to boss the forwards defensively. He is a great scrum tactician, and with Chris King - in career-best form - in front of him, you would have to pick the Highlanders to be the dominant force in this part of the game, but it's his ability to stop the maul that will be key tonight - and that's where Matfield comes back into calculation.
With Matfield in the lineout, the Bulls are quite simply a different beast.
The Hurricanes showed the world how to defend the Bulls' lineout drive last weekend, but that was a lineout drive that lacked its spiritual leader. You can fist pump all you like about defending a lineout drive sans Victor, but it's like seeing Guns and Roses without Slash on guitar: you get all the hits, but it lacks a certain quality.
Neither Matfield nor Thorn lack quality.
They may not be showy, they may not be as quick as they once were, but they make up for it with 35 years of combined professional footy experience and, undoubtedly, better record collections.
Mate against mate
Before we all get too carried away with the fact there are three Australian teams in the top six, let's not forget they are about to cannibalise each other all weekend. The Force take on the Tahs and the Reds host the Brumbies, so unless you're picking draws there'll be at least two Aussie teams in the defeat column come Sunday. Also, how good are Wallaby auditions this weekend? Hooper v Hodgson! Moore v Hanson! Cooper v himself!
Irony time
So, let me get this straight: Mark Hammett was appointed Hurricanes head coach in part because there was a fear he would take to the Rebels the intellectual property he had built as an assistant coach of a New Zealand franchise. If I have that bit right, now he is free to head overseas, if he wishes, taking with him the intellectual property he has built as a head coach of a New Zealand franchise for the last three years. Heck of a play!
An extensive list
Speaking of Hammett, so far the roll call of new Hurricanes coaches to replace him, suggested by fans and pundits, stands at about 62 names with some outstanding left-field thinkers in the mix. The list includes John "Journey" Mitchell, Peter "P-Divvy" de Villiers, Robbie "Dingo" Deans, Matt "I don't quit" Elliott, and Filo "I dare not give him a nickname" Tiatia. Snippets cannot confirm if any of the above has been contacted by the Canes.