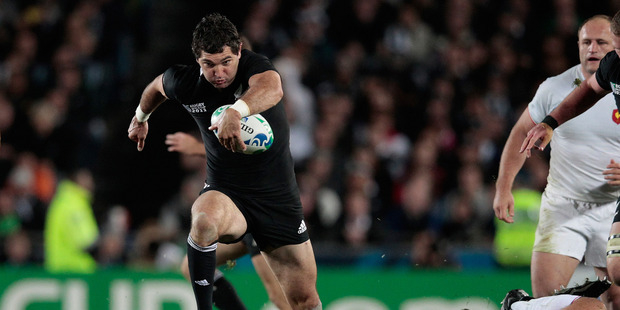 It's a plot-twist worthy of the movie being made about New Zealand's 2011 Rugby World Cup triumph and that kick by the most unlikely of heroes, whitebaiter Stephen Donald.
A source has disclosed exclusively to the Herald that the French Rugby Union will lodge a claim today with the Court for Arbitration in Sport in Lausanne challenging Donald's eligibility to play in the 2011 final and seeking a replay of the match.
While such a move seems bizarre more than 2 years after the final was played, it has, apparently, been prompted by French President Francois Hollande who is seeking to boost his popularity.
Donald was not included in the original World Cup squad and was a late replacement after injuries to Dan Carter and Colin Slade.
When third-choice number 10 Aaron Cruden was injured in the 33rd minute he was replaced by Donald who calmly kicked a 37m penalty in the 45th minute to secure the 8-7 victory for the All Blacks at Eden Park.
It is understood the French rugby union will challenge an invalid formal notification of Donald as a replacement under the IRB's 2011 tournament rules, meaning that Donald never served the mandatory stand down period before inclusion in the playing squad and was therefore ineligible for the final.
All Black fans could be especially nervous after an administrative blunder in the Ellis Park test last season saw Dane Coles take the field against the Springboks although not officially listed as the replacement hooker.
The 2011 Rugby World Cup was conducted under tournament rules established by the IRB. It was a mandatory requirement for entry into the tournament that each nation would submit to the jurisdiction of the Court for Arbitration for Sport the in the event of a dispute. CAS spokesman Castor Dupe declined to comment but said the only day such claims can be filed is April 1.
Because of confidentiality undertakings the Herald is not able to reveal the first name of its French source, a Monsieur "Bearnaise".
In the unlikely event you hadn't realised it, this story is just that - a piece of April Fool's Day fiction. Castor is French for beaver - Donald's nickname - and Dupé is French for fooled. Bearnaise, of course, is a classic French sauce, often enjoyed with steak. Happy April Fool's Day.