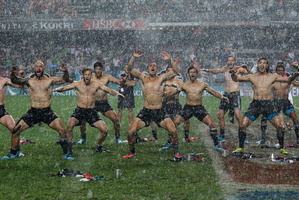 Hong Kong is still Mecca for our sevens players, and New Zealand skipper DJ Forbes says Sunday night's victory is as sweet as ever.
Video: Rugby sevens: NZ win Hong Kong

The All Black Sevens defeated England 26-7 in the Cup final to give themselves a seven-point buffer over South Africa heading into the final two tournaments of the IRB World Series circuit. It was their first win in Hong Kong since 2011.
"The atmosphere doesn't change at Hong Kong. It's pretty much the Rugby World Cup of the world series," said Forbes, who gave a sterling captain's performance in a wet final, scoring a try and showing his usual total commitment, while marshalling a young side, several of whom had never experienced the intensity of the three-day Hong Kong tournament.
The win came just a week after a disappointing fourth-place finish in Japan.
Video: Fans let it all out as Hong Kong Rugby Sevens kicks off

The All Black Sevens are more than comfortable in the rain, and Forbes himself led a haka as it cascaded down.
"We've had success when the heavens have opened; in Moscow last year [in the RWC Sevens] and also Wellington. We pride ourselves in contact and holding on to the ball," said Forbes.
Ben Lam showed his strength close to the line for the first try, while the prolific Tim Mikkelson was too sharp, in a 60m burst, for the England defence for the second. Forbes' try emanated from swift passing and he was on the end of the chain, while Sam Dickson backed up some incisive work by Sherwin Stowers for the final score.
"[Coach] Titch [Gordon Tietjens] always puts the onus on us senior players to perform and lead by example," says Forbes, "but we're a star team, not a team of stars."
Former New Zealand sevens captain Eric Rush can relate to Forbes' commitment.
"Titch's captain has to be a guy who leads by example. With guys like Liam [Messam] and Karl Te Nana he's been lucky. DJ has the respect of his team and he respects all the players, that's why they go the extra yard," said Rush, now based in Kaikohe running a supermarket.
Like Forbes, Rush said the lustre of Hong Kong had not dimmed after nearly 40 years of action there.
"It's the tournament we want to win. It's still the spiritual home."
The squad will be on strict training regimes over the next few weeks leading into the May 3-4 tournament in Glasgow, venue for the July Commonwealth Games. Of interest will be whether coach Tietjens recalls veteran Lote Raikabula, who was dropped for the last two legs.