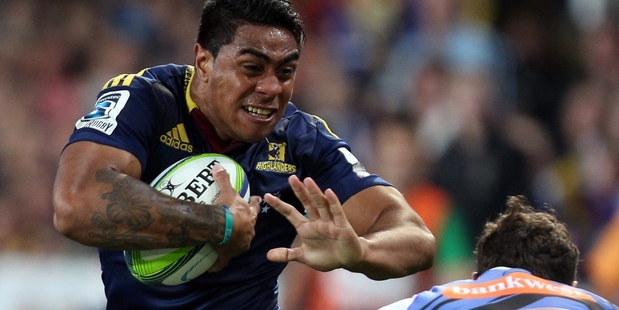 Another chapter in Malakai Fekitoa's unlikely story of redemption will be written tonight when he lines up for the Highlanders, opposing the player whose arrival forced him out of the Blues last year.
Fekitoa is the 21-year-old Auckland player who was with the Blues last year — didn't play a single competition game — and was then gently pushed out the back door when Ma'a Nonu was a late and surprise signing.
Fekitoa left his home town a touch bewildered, plenty disappointed and massively determined to prove that he's got what it takes to make an impression at this level.
He's achieved that last part already. He scored with his first touch of the ball in the opening round — against the Blues — and has been New Zealand's form centre since. Last week he pulled off the tackle of the season so far when he emptied the contents of Conrad Smith liberally across Dunedin, and in doing so has piqued the interest of All Black coach Steve Hansen.
From Blues reject to All Black in nine months? It's not out of the question. "He has shown us over the last couple of weeks that he's a prospect. So we will watch him," says Hansen.
This all sounds a little fantastical but Auckland coach Wayne Pivac, who has been central in Fekitoa's development, says events are now following their natural course.
He first saw Fekitoa when he was playing for Wesley College and couldn't help but be dazzled by his defensive line speed and explosive impact with and without the ball.
Befitting a young man prepared to trust his instincts, there were high profile errors in the mix, too, but Pivac felt those would naturally diminish as Fekitoa was exposed to top level coaching.
Largely, he's been proven right. "Malakai has improved each year he has played in the ITM Cup," says Pivac. "We have done a lot of work with him one-on-one and we have seen a lot of the mistakes come out of his game.
"He would be leading the statistics for line breaks and I also think he's one of the best defenders in the game. His line speed is so good, he gets up so fast that he's in the peripheral vision of opponents.
"This young man has a huge future in the game. He's definitely capable of playing international rugby."
Tonight will go some way towards determining whether Pivac is right. A direct clash against Nonu on Eden Park would be about the toughest assignment in the world game for any young centre.
It's not just the direct challenge of marking Nonu that will test his character - there will be the added emotional burden of wanting to perform against his old team. Rejection is never easy to take. Letting him go was a hard decision for the Blues to make, but they still made it.
"We had the opportunity to pick up Ma'a and I had too many midfielders," says Blues coach John Kirwan. "Malakai is a centre and people like Jackson Willison and Pita Ahki cover a few more positions.
"It was a hard decision [to let him go]. He's a good young man and I am really pleased for him. He probably wasn't ready for Super Rugby last year, but he's certainly playing well for them.
"He would have been disappointed that we couldn't contract him. Ideally we would have liked to have lent him to the Highlanders and got him back but you can't do that. So the risk we took was that he would go to the Highlanders and love it down there.
"Sometimes, and I am not saying this is in Malakai's case, guys are in a comfort zone and then they get out of their comfort zone, they can come back and bite you. They realise that life is a bit shorter than they anticipated and they change."

Malakai Fekitoa
• Age: 21
• Height: 1.87m
• Weight: 104kg
• Position: Centre
• Super Rugby appearances this year: 4
• Tries: 2
• Minutes: 320
• Clean breaks: 4
• Defenders beaten: 17
• Tackles: 16