Coach Hammett says his star All Black winger must now fight to reclaim his starting place.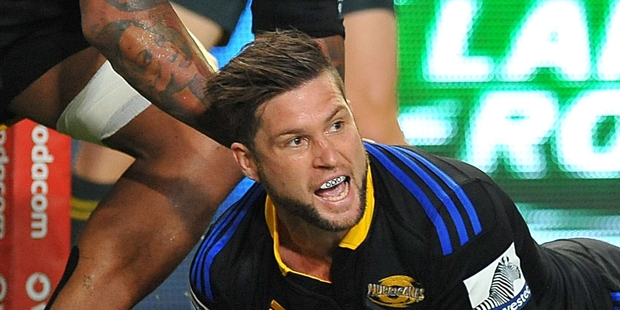 Ankle injury or not, Cory Jane appears to no longer be a certain starter for the Hurricanes.
Jane has played for the Wellington-based franchise since 2007 and has been one of their most influential figures in recent seasons but he is now out of favour.
The 45-test All Black missed last Friday's loss to the Highlanders in Dunedin with an ankle sprain but he revealed on Monday he wouldn't have been picked anyway.
After playing the first three games of the season on the wing, Jane was absent from the Hurricanes' 60-27 win over the Cheetahs two weeks ago with a broken nose.
Jane's ankle ailment has left him unavailable for selection against the Crusaders in Christchurch tomorrow night but coach Mark Hammett said the 31-year-old would have to earn his spot back when he is fit, given the strong form of incumbents Julian Savea and Alapati Leiua.
"We just sat down and talked about a few things," Hammett said. "I don't need CJ to be as good as those other guys technically because what he offers us leadership-wise and his ability to communicate in that back three is quite priceless at times. But he still needs to, like all players, keep working on his game."
Just exactly what Jane needs to improve is a small mystery.
"He's made the comment he wants to get back in, we've had a couple of really good chats around it so he knows what he needs to do and once he's back and fit it'll be good," Hammett said.
The situation seemed confusing on Monday when Jane suggested he would be ready for tomorrow's showdown with the Crusaders.
"Hopefully they pick me so I can play some rugby," Jane said.
But Hammett clarified Jane's fitness levels yesterday and said while Jane had been able to run in a straight line, he still wasn't back to top speed.
"We thought he might be close for this week but he's not," Hammett said.
As for Jane's belief that he was good to go, Hammett put it down to over-enthusiasm.
"That's CJ though, isn't it? He'd walk out with a broken leg and say he's going to be fit on the weekend. So that's the great thing about him, that's his childish nature around really enjoying the game and wanting to be out there."
Jane took only a limited part in Hurricanes' training at Rugby League Park in Newtown yesterday, as he worked with the outside backs on taking high balls but he wasn't decked out in full practice attire.
One of the players Jane was working with was a casualty from the loss to the Highlanders as Marty Banks has been dumped to the bench with Andre Taylor given a chance to impress at fullback after an exciting cameo in Dunedin.
Second-five Tim Bateman has returned from a knee injury, while Blade Thomson will start at No8 after missing the game against the Highlanders, which has forced Ardie Savea to the reserves.
- APNZ