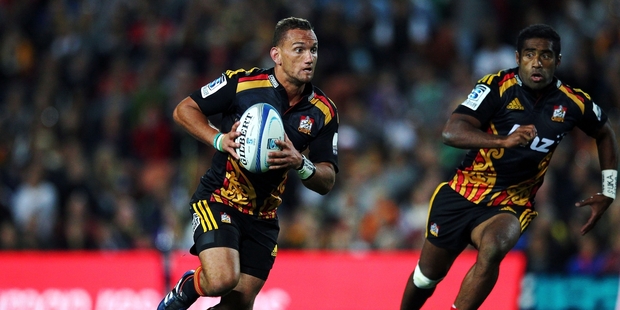 A win for the Chiefs and a win for the Crusaders. The same result yet they headed further along divergent paths on Friday night.
This idea that the New Zealand conference will essentially be a battle between the emerging force that is the Chiefs and a rejuvenated Crusaders - the established old guard of Super Rugby - is looking ever more like tosh.
Based on what happened in Hamilton, the Chiefs are now properly up and running. They scrambled two wins first up on the back of their character and commitment, qualities they had to show in the face of a potentially disastrous injury crisis.
They will have to regroup again as James Lowe (knee) and Charlie Ngatai (calf) won't travel to Perth and Africa, while more testing needs to be done on Robbie Fruean to determine his readiness after suffering minor heart palpitations. The big centre had heart surgery last year and although he's suffered similar effects before, the Chiefs won't take any risks with his health and will delay a decision on Fruean travelling until Monday.
Against the Stormers, they were a different beast. The Chiefs showed with the depth of their tactical analysis and clinical execution why they are seen by many as the champions-elect. They scored five tries against a side, who until Friday night, had only conceded an average of 1.3 tries a game this season.
It was the speed, width and precision of the Chiefs' attack that was so impressive. They hit the Stormers on the fringes where their notoriously good out-to-in defence wasn't effective.
"It's pretty exciting when you do a lot of analysis during the week and you see certain pictures that the defence gives you and you are able to exploit it right up the field," said Chiefs co-captain Aaron Cruden.
"We made most of our best gains deep in our half as opposed to closer to their line. It was nice to step up. It was an improvement from the last couple of games in terms of the way we attacked and it is definitely something to build on."
The Crusaders didn't convince in the same way at all in Melbourne and they walked off with relief once again the prevailing emotion. There were periods when they looked like the Crusaders should look - but not many and those flashes didn't net the returns they needed.
Their attack continues to stutter; it continues to drift and lack dazzle - which is why they managed only the one try. Even if the Crusaders do find more of an edge with a more direct and effective strategy combined with sharper execution, bonus points could be an issue for them. The Chiefs look eminently capable of collecting bonus points at their leisure. The Crusaders, who have managed five tries all season, may not pick up a solitary extra at this rate.
A team with their individual quality and pedigree can't be summarily dismissed four weeks into the season. They have started slowly in previous campaigns, looked more than a little wobbly before surging into the playoffs.
But there is a little reluctance to predict a revival this season.
From where is the jump in performance going to come? Richie McCaw is their only injured game-changing player.
The challenge for coach Todd Blackadder and his management team is to get more out of the players he has used so far. That will require considerable tactical refinement as, while the Crusaders are being held back a little by individual errors, they look like their game plan is holding them back more.
As Cruden said, deep and astute assessment of the Stormers' strengths and weaknesses was at the core of the Chiefs' victory.
"If you're going to pick around the edge you're going to get belted all day," was Chiefs coach Dave Rennie's more blunt take on how to subdue the Stormers. He said it because not only was it true, but it was also a little pot-shot at the Crusaders who last week spent 80 minutes trying to break down the Stormers by sending ball carriers directly into Schalk Burger and his defensively eager chums.
The Crusaders have a week off, then play the Hurricanes at home before heading to Africa where they will encounter the Lions and Cheetahs. They face the Chiefs in Hamilton the week after they return. It's a four-week stretch that could determine their season: without significant allround improvement, they may never find themselves on the same path as the Chiefs this year.